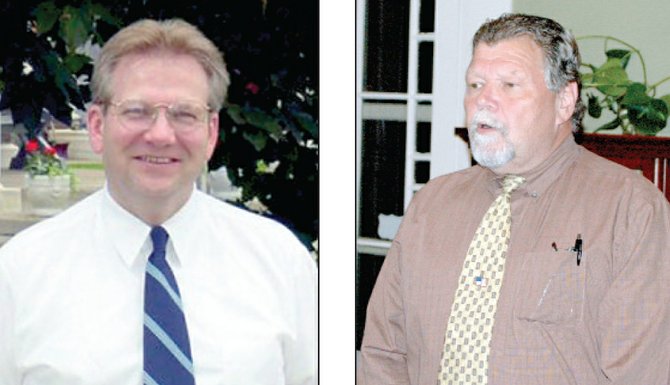 continued — Jay
Three candidates are seeking two seats on the Jay town council in the Nov. 8 election, including incumbent board members Thomas McDonald (R) and Gerald Hall (R), along with challenger Frank Balzac (W).
Daniel Deyoe (R) is running unopposed for the position of town justice.
Keene
Incumbent Supervisor William "Bill" Ferebee (R), the winner of the Sept. 13 primary contest, will again be challenged by Paul Vincent (I) for his position.
Five people are seeking two seats on the town council, with incumbent Marcy Neville (D) running along with newcomers Henrietta Jordan (D), Michael Buysee (R), Donna Combs (R) and Jerry Smith (R).
Kent Wells is running unopposed for the town justice position.
Lewis
Incumbent Supervisor David Blades (R) will head a list of unopposed candidates, including town justice James Pulsifer (R) and councilmen Charles Martin Jr. (D) and Stephen Denton Jr. (R).
North Elba
Incumbent Supervisor Robert "Roby" Politi (R) will be challenged in running for another term by Derek Doty (D).
The highway superintendent position will also be contested, as incumbent Larry Straight (R) will face a challenge from David Jones Jr. (D).
All other races are uncontested, including town clerk/tax collector Laurie Dudley (R), town justices Scott Monroe (R) and James Rogers III (R); councilmen Jay Rand (R) and Bob Miller (R); and assessors Arthur Jubin (R) and James Bishop (R).
St. Armand
Current Deputy Supervisor Samuel Grimone (R) will run one of two positions on the town council, along with Donald Amell (D).
Charles Whitson Jr., is also running unopposed for an un-expired term on the board.
Tupper Lake
Four are running for the Tupper Lake town council, which has two open seats. The candidates include James Facteau (D), David Tomberlin (D), Patricia Littlefield (R) and Eric Shaheen (R).
Laurie Fuller (R) will run unopposed to remain as town clerk, while Leonard F. Young III (D, R) will run for re-election as town justice and William Dechene (R) will seek re-election as head of the highway department.
Vote on this Story by clicking on the Icon