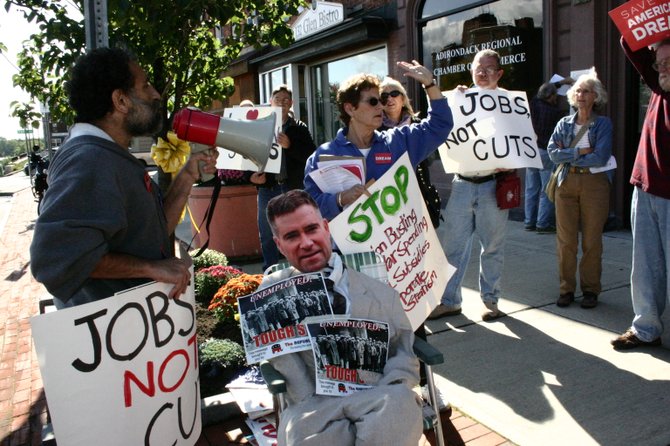 Glens Falls — With protesters rallied behind her shouting "Jobs, Not Cuts," Nancy Newbern stood beside Glen St., holding a sign that read: "Support Us Hard Workers — Tax the Wealthy."
More than two years ago, cutbacks at the Glens Falls Post-Star newspaper resulted in the elimination of her job as an editorial receptionist, she said.
Newbern went back to college soon after to further her education, but she's been unable to secure a job despite applying for dozens of positions.
"I was devastated to lose my job,' she said, blaming the banks and big corporations for manipulating the economy and creating the financial crisis. "I've run out of unemployment benefits and spent down my savings — I'm sunk."
Newbern was among several dozen local people demonstrating outside U.S. Rep. Chris Gibson's Glen Street office, protesting government cutbacks and right-wing policies they said are fattening the wallets of the rich while squeezing the poor.
The Oct. 4 protest was held in sympathy of the ongoing Occupy Wall Street rallies being held nationwide.
As Newbern was waving her sign for passing motorists to read, Susan Weber of Kattskill Bay proclaimed to the protesters that failed government policies and corporate collusion were making the rich wealthier — and the poor increasingly desperate.
"The wealthiest 1 percent in the nation own 90 percent of the nation's wealth, yet the bottom 80 percent own only 7 percent of the wealth — and that is wrong," Weber yelled to the crowd. The gap between the rich and the poor is nine times greater than in the 1970s, she continued.
Pumping up the crowd, Weber said that right-wing policies were harming the area's economy, as well as in the nation's hard-hit cities.
"The laid-off and unemployed can't grow our economy," she said, voicing support for a strong jobs bill. "We need to end corporate bailouts — these failed policies have hit Glens Falls — all our businesses have been suffering."
(Continued on Next Page)
Prev Next
Vote on this Story by clicking on the Icon