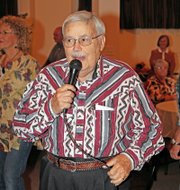 Ticonderoga — Square dancing is a fun pastime for many. For Stan Burdick, it's been a life-long love.
A square dance caller and historian, the Ticonderoga man has called more than 5,000 dances in his career. He has called dances in every state, every Canadian province and 20 countries during his 60 years in the industry.
Burdick and his wife, Cathie, published a worldwide square dance magazine, "American Squaredance," for 23 years and he served 20 years on the board of governors of Callerlab, the California-based national organization for square dance callers.
"It's been a great experience for me," Burdick said of his square dance career.
Burdick returned to his roots for the Northern Lake George Rotary Club Harvest Hoedown Oct. 14 at the Ticonderoga Knights of Columbus. Backed by the Marcotte Mountain Music Band, Burdick called dances at the benefit event.
Burdick recently spoke to the Adirondack Torch Club in Ticonderoga. He outlined the history of square dancing and reflected on his career.
Square dancing traces its roots back centuries. The first printed guide to square dancing was published in 1651 in England, Burdick said.
"We can thus conjecture that square dancing was popular in the 17th and 18th centuries, and perhaps earlier, but not recorded," he said.
The dance came to America with the earliest settlers, Burdick said, pointing out George Washington was a avid square dancer. His favorite dance was the Sir Roger deCoverly, which remains popular and his now known as the Virginia Reel.
One of square dancing's greatest advocates was Henry Ford, Burdick said. Ford held cotillions, inviting many of the nation's elite to square dance.
"In 1926 Ford published the book 'Good Morning'," Burdick said. "It became a best seller and contained instructions for quadrilles, lancers, squares, contras and rounds. A new revival had been born."
(Continued on Next Page)
Prev Next
Vote on this Story by clicking on the Icon