Schroon Lake — Westport Royal Blue and Schroon Lake red were no where to be found when the two girls' soccer teams took to the field Oct. 6.
Instead, it was replaced with Lady Eagle hot pink and Lady Wildcats tie-dye pink.
Photo Gallery
Cancer Awareness Game
Pictures from the Oct. 6 Cancer Awareness Game between the Westport Lady Eagles and the Schroon Lake Lady Wildcats.
The teams took part in a Cancer Awareness Game as part of National Cancer Awareness Month, an idea that started in a meeting of local athletic directors and turned into a cause to help one of the Wildcats' own.
"We were at an AD meeting in Lake Placid and they brought it to our attention that we could do one of these games to promote cancer awareness," Schroon Lake Athletic Director and girls varsity soccer coach Mary Lou Shaughnessy said. "Brad (Rascoe, Westport AD and girls varsity coach) and I got together and figured out that we wanted to do this."
"Our players were more than open to the idea," Rascoe said. "We asked them what they wanted to do for uniforms and came up with the variations on the pink uniforms. The players were very enthusiastic about it."
Both coaches said that the plan was to originally raise awareness for breast cancer, but a diagnosis for one of the Wildcat's parents changed the plan to focus on general cancer awareness and help.
"The team was very excited for the event, but when we found out that Miranda DeZalia's father, Kelly, had been diagnosed and it hit home with the team and with Miranda, we knew that we wanted to turn this into something that we could do to support the family."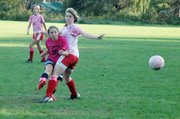 "At first, my dad was kind of skeptical about the dedication," Miranda said of her father, who was diagnosed with colon cancer. "Then he decided that it would be an honor to represent those that have been affected by cancer. The team has been very supportive of our family, and we wanted to raise awareness for the disease."
(Continued on Next Page)
Prev Next
Vote on this Story by clicking on the Icon