continued — "I would like to see consolidation into a more concentrated government structure for the Adirondacks," Herman said. "We would have a government that was more coordinated with local municipalities and have a more coordinated plan."
Herman also said that, along with creating a regional "Adirondack identity" there may be a need to consolidate services between municipalities.
"We have to ask ourselves, honestly, if we are going to try and save all of the communities in the park," Herman said.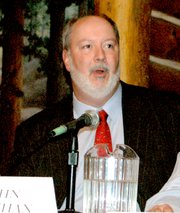 "There is an opportunity to help every community succeed in a way that it is not right now," Sheehan said. "There is less of an economic crisis in the Adirondack Park and more of a crisis of fear. We need to chart our course better. The more that we are getting together and talking about what the future can look like is better. We do not do that nearly enough."
Sheehan added that there needs to be more done in terms of community development, including what he saw as a mistake to not have the entire park in a single Economic Development Council area.
"The Park is in three different economic councils," Sheehan said. "That spreads things out and does not give the park one voice."
Fish said that, as a member of the North Country Regional Economic Development Council, they were taking it upon themselves to represent the park as a whole.
The panel took questions from members of the audience as well as presented insights and their thoughts about the future of the Adirondack Park.
Folwell said that she hoped for more discussion to come from the events, including a radio call-in show and discussion through other outlets.
Vote on this Story by clicking on the Icon