continued — "The article has generated so much conversation, blog postings, diner chat and bar talk," said Folwell, whose magazine published the piece. "We thought that we should take this on the road."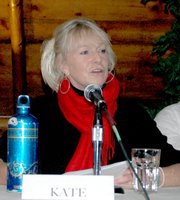 Fish started her remarks by asking the audience if there was any who felt that the Adirondack Park economy could not be transformed or improved, to which no one responded.
"I think that it is time for the gloom and doom attitudes that we find — just, let's be done with that," Fish said. "A negative attitude can really impede change. There are a lot of good things that are happening here, and we, as Adirondackers, do not let challenges get in our way."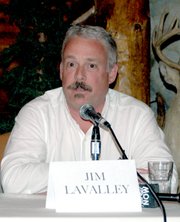 LaValley said that he felt that there needed to be a balance between the protection of the environmental assets and the human assets.
"If I were a teacher, I would give us an A-plus in the ways that we have protected and developed the natural ecosystem of the park," said LaValley, who also operates LaValley Real Estate offices in Tupper Lake, Potsdam and Malone. "I would give a failing grade in the protection and development of the human ecosystem in the park. So many are looking for new development."
A "new development" is something that Herman said he is looking into by doing a study of the region.
"One idea that we see is a closed-loop economy," Herman said. "That way, more of the money that is spent here in the park stays here."
Herman and Fish both pointed at thermal bio-mass industry as a way to promote closed-loop economics and growth within the park.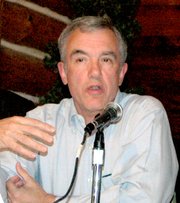 "If you want young people to stay here, you have to put out ideas that will appeal to them," Herman said, adding that he felt another way to help the region would be the creation of an Adirondack County.
Vote on this Story by clicking on the Icon