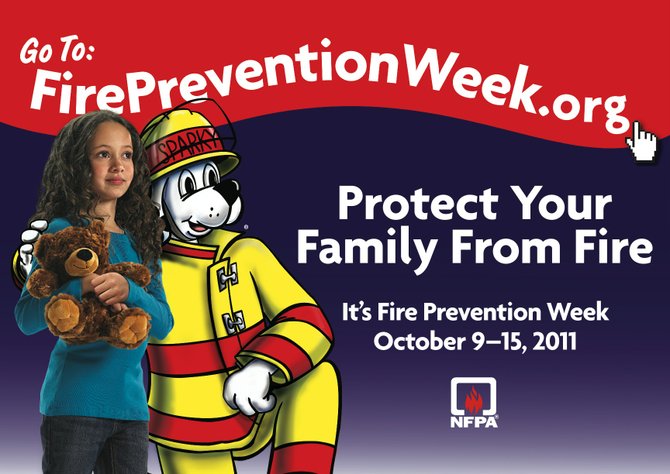 continued — The concept of teaching fire prevention is important, Kostyk said. Statistics have shown as fire prevention education has been introduced into schools, the number of incidents nationwide has decreased steadily over the past several decades.
"When I started in the fire services about 30 years ago, we had many more structure fires and fire-related incidents," said Kostyk, who serves as a member of the Cadyville Volunteer Fire Department. "We can thank that in part to better building codes and materials these days, but I think, really, a very large portion of that goes to the focus local fire departments have put on fire prevention. Our kids are better educated than we were when we were in school."
"What's great is the kids will pick up on so much stuff that their parents may not know," added LaFountain, referring to topics like new fire prevention technology and statistics on the types of fires that are most reported in their area. "So, the kids can sometimes educate their parents just as much as the parents can educate their kids."
Though National Fire Prevention Week is touted once a year, both LaFountain and Kostyk said it's important for children and adults alike to keep fire safety in mind year-round.
"It's not just the week it occurs," said LaFountain. "It's important to keep an eye out every day for things that violate fire codes or that are unsafe."
And, when in doubt, the public can always call on their local fire departments to offer their expertise when it comes to what's safe and what isn't.
"Most Monday nights, there is someone at our fire stations if anyone has any questions," said Kostyk.
The Clinton County Firefighters Association will have volunteer firefighters visiting the following schools next week on the following dates: Momot Elementary School, Oct. 11 and 12; Cumberland Head Elementary School, Oct. 13; Northern Adirondack Elementary School, Oct. 14; and Beekmantown Elementary School, Oct. 18.
Vote on this Story by clicking on the Icon