Photo Gallery
Warrensburg Garage Sale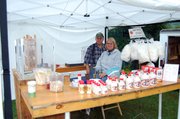 Warrensburg — Cold temperatures and wet conditions over the weekend drew in fewer crowds than last year to the 32nd annual Warrensburg Garage sale. The 50-degree weather didn't hinder all shoppers from checking out the World's Largest Garage Sale Sept. 30 - Oct. 2.
The traffic on Main Street was still crowded, despite the rain, with people on their search for bargains and checking out the vast selections of merchandise from all over.
The event ran from Friday evening to Sunday evening with about 250 registered transient vendors set up all over town. Vendors ranged from local businesses setting up on the street to musical acts, nonprofit groups raising money, and vendors from as far away as Florida.
Visitors could find anything from antiques, discount purses, winter hats, sweaters, knife and kitchen sets, or a souvenir 32nd annual Warrensburg Garage Sale T-shirt.
Tiffany Underwood, of Clifton Park, made the trip Sunday afternoon with her mother, sister and 4-month-old daughter. She said coming to the sale every year is a tradition in her family. They can come together and have any kind of carnival food they want, find a good deal on purses and start their Christmas shopping early.
First-time shoppers Charlotte Hower, Allyssa Latour and Blue Swan-Otter decided to come out to the Warrensburg Garage Sale for the first time to find items to fill their empty apartment at Paul Smiths.
"We found so much amazing stuff for our new place, I only wish we'd gotten here earlier because I know we could have found much more," Hower said.

Though some vendors said the sales this year were almost 30 percent lower than in previous years, vendors like Barbara Morris, who traveled from New Jersey for the event, said sales for her web-based portable boutique, LilinVictoria.com, of hats, dresses, purses and other accessories, were higher this year than the last three years at the Garage Sale.
(Continued on Next Page)
Prev Next
Vote on this Story by clicking on the Icon