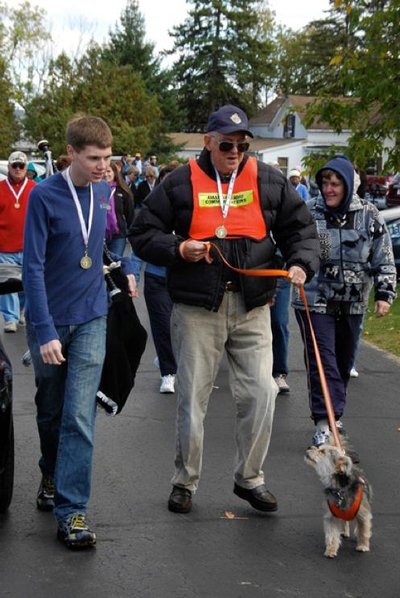 Peru — The Walk of Faith will celebrate its fifth anniversary this weekend and it's an event coordinator Christa Covell-Reyell looks forward to each year.
"When we started this, we were looking for something that would be both a spiritual walk and a way for the community to come together," said Covell-Reyell.
The event, established in October 2007, began as a longer walk throughout the town of Peru, starting at St. Patrick's Church in West Peru, and continuing on for 7.2 miles to St. Augustine's Church. However, through the feedback of its participants, the length and route for the walk have been reduced, bringing out more people for the event, said Covell-Reyell.
"It was the second or third year we started polling the walkers, asking them what they liked and what the would like to see different, and it was recommended we have a shorter walk," said Covell-Reyell.
The result is how the walk is organized today, starting at the Lady of Lourdes Shrine behind St. Augustine's Church on Main Street, with a route that proceeds through the hamlet of Peru for 2.7 miles, circling back to St. Augustine's Parish Center.
The formula has worked, said Covell-Reyell, as last year's event attracted nearly 100 walkers and raised more than $600.
"It's branched out quite a bit since our original event," she said.
This year's walk — slated for this Sunday, Oct. 9 — will also include opening remarks from Bonnie Black with the North Country Mission of Hope and a guest speaker to be announced from Peru Community Church's Jamaica Project. The walk will include prayer stations along the route and a closing ceremony will be held after the walk featuring remarks from the Rev. Alan Shnob, pastor of St. Augustine's Church.
The walk will begin Sunday with registration at 11:45 a.m. and continue with the opening ceremony at 12:30 p.m.
For more information about the walk, contact Covell-Reyell at 566-6404.
Vote on this Story by clicking on the Icon