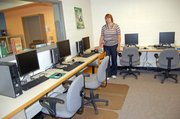 Dannemora — Laura Pritchard feels right at home.
The director of the Dannemora Free Library has found a place for every book in the library's new location in the new Village of Dannemora Office Building on Emmons Street.
"It's really wonderful," Pritchard said of the new location. "We have plenty of space."
The library was moved the last week of August from its former location in the Town of Dannemora Office Building on Cook Street. That location, said Pritchard, has only about one-third the space as the new location.
"We just have a lot more room," said Pritchard.
Having that room has allowed for Pritchard to not only bring along the thousands of books the library already has, but has given her the ability to do something she hasn't thought of doing for some time — expanding the library's collection.
"We've already added over a hundred books in the last month," said Pritchard. "Some books were donated, some were purchased through a grant through Sen. Betty Little. Some we purchased ourselves."
Pritchard has been focusing on expanding the library's offering of young adult reading, which, in the previous location, only allowed for a bookcase measuring approximately 4 ft. wide by 6 ft. tall. Now, Pritchard has three additional bookshelves she hopes to one day fill to meet the needs of her young reader.
"Just last week, I purchased six more young adult books," Pritchard said, adding she's seeking input from both her young adult readers and other patrons on what they would like to see offered in the library.
Another benefit of the move, said Pritchard, has been improved access and parking. The former location had very little on-street parking available, which was also metered.
"[The Cook Street location] made it hard for people with walkers, strollers and wheelchairs because of the stairs," said Pritchard. "People struggling with mobility had a hard time. We even had some patrons stop coming because they couldn't manage the stairs."
(Continued on Next Page)
Prev Next
Vote on this Story by clicking on the Icon