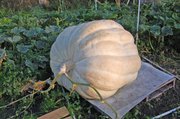 West Chazy — When Randy Strombeck grows pumpkins, he doesn't mess around.
It's been eight years since Strombeck grew his first "giant pumpkin," weighting in at 435 pounds and, this year, he's more than doubled that figure, growing a pumpkin at his Slosson Road home weighing approximately 1,002 pounds.
"It's still growing," said Strombeck, laughing.
Strombeck first became interested in growing big pumpkins when he and his wife were interested in growing their own pumpkins for Halloween.
"[The pumpkins] ended up getting covered in bugs, so I went on the Internet to find out how to get rid of them," said Strombeck.
What he found was something way beyond pest control. Strombeck found a hobby that would become part of his fall routine, just like raking leaves and putting candy out for trick-or-treaters.
"I found all this information on how to grow [pumpkins] by doing things like making sure they had nutrient-rich soil, and a lot of water," he said.
The information was key to helping him grow pumpkins so big that he could enter them each year in a contest in Colchester, Vt., where he proudly displays the gigantic gourds that have managed to increase in size each year.
"I've been able to increase them in size by about 200 pounds each year," said Stormbeck.
The key has been in the research he's done on websites like www.bigpumpkins.com, which Stormbeck considers a wealth of knowledge for pumpkin heads.
"They've got message boards, chat rooms and all kinds of information on there," said Stormbeck.
It was on the Internet that Stormbeck learned using the popular plant food Miracle Gro won't give you bigger pumpkins — at least not the size that will win contests, he said.
"Miracle Gro is actually bad for growing big pumpkins because it contains a lot of salt, and it dries up the plants," said Stormbeck.
(Continued on Next Page)
Prev Next
Vote on this Story by clicking on the Icon