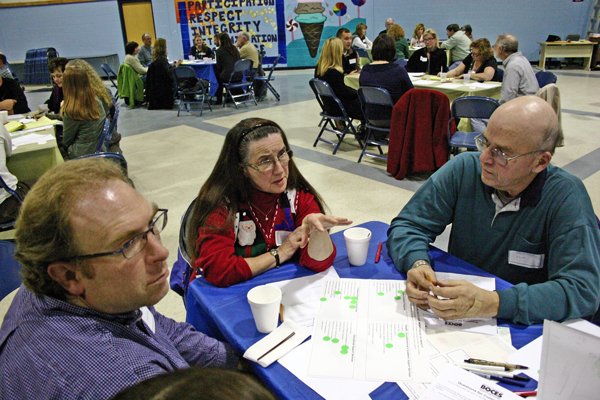 continued — Apple's opinion was expressed at many of the groups at the forum, event facilitator Tara Sullivan of BOCES said after the event.
"Many feel very strongly they wanted to keep Advanced Placement and honors courses, as well as art and music," she said.
Several people at Sullivan's table, including some school staffers, suggested that the faculty give up their traditional stipends for chaperoning school events. Former school board member Al Smith suggested that sports teams limit the miles they travel for interscholastic games.
A district resident and parent named Sherryl decried the elimination of some advanced courses for the college-bound. In recent years, the Young Scholars and Odyssey of the Mind programs have been axed in budget cuts, she noted.
"My concern is that my daughter has the absolute best opportunities," she said. "We've cut quite a bit in the last few years, and I'd hate for these cuts to go any further."
Aineen Callahan, a WCS Freshman, said she was concerned about the cuts that eliminated home economics and guitar clubs, two of her interests.
"I don't see anything left we can cut," she said.
At another table, AnnMarie Richards and her daughter Lindsey Richards said they supported technology upgrades, and retaining or strengthening AP courses.
In this group, Irv West of Thurman suggested the school boost citizen volunteerism, as well as find ways to increase involvement of parents and other family members in their child's education.
Former high school librarian Elaine Cowin suggested that the school undertake energy audits and eliminate wasted energy in all its buildings. Imbalance in wintertime heating at the elementary school, she said, leads to windows being opened in some overheated classrooms. Parent Laura Weick said the school, in an effort to save energy, could turn off many of their outside area lights that are now lit all night long.
Vote on this Story by clicking on the Icon