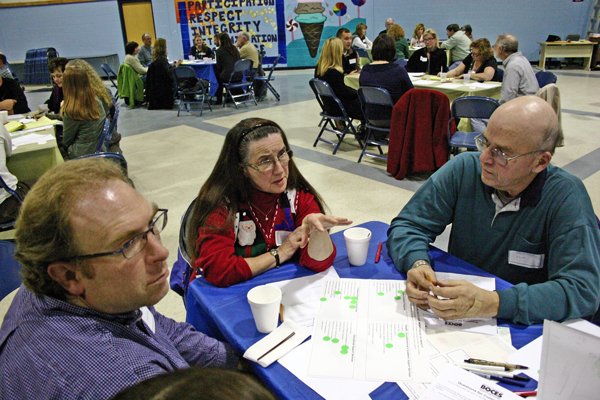 Warrensburg — Sue Gerrain of Truesdale Hill sat at one of 10 tables in the Warrensburg High School cafeteria during a community forum held Monday, Nov. 28 on the future of education in the Warrensburg area.
She listened to other local residents propose ideas, including how various enrichment and extracurricular programs cut in recent years should be reinstated — and that the quality education provided locally should be preserved. But she also heard talk of how the taxpayers deserved relief.
Then she offered a thought of her own.
"For long-term educational projects, school districts should invest over time, bit by bit," she said, noting that taxpayers would be happier with miniscule increases each year than be hit with a big tax increase every several years.
The community forum was held in light of the state property tax cap and economic stresses now facing taxpayers — as well as declining enrollment, school officials said.
The WCS school board and administration sponsored the forum to determine what programs the public valued as well as hear suggestions for cuts in expenditures.
In one of the forum's groups, Mike Sullivan, the school's former Information Technology coordinator, made a variety of suggestions for maintaining a quality education while making it affordable — the top objective aired by the 65 or so people involved in the forum.
He suggested that the school district boost revenue by offering college-level adult education courses for a fee with the school's Distance Learning apparatus — which is high-definition videoconferencing broadcasts of a live classrooms.
He also suggested that booster clubs could pick up much of the school sports teams' uniform and equipment expenses now born by taxpayers.
At another table, Linda Apple said that the various elective activities beyond academics were what kept children involved in school.
"Drama, music and other extracurricular activities are the 'hooks' that keep kids performing well in their academics," she said. "All of this is a balancing act with kids, parents, staff and taxpayers."
(Continued on Next Page)
Prev Next
Vote on this Story by clicking on the Icon