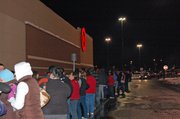 Plattsburgh — Reginald Nephew arrived at Target in Plattsburgh at 3:15 p.m. Thursday to be the first in line for Black Friday.
"We are leaving here and then going to Walmart, Lowes and Kmart," said Nephew, of Altona.
Black Friday, the day following Thanksgiving and the beginning of the Christmas shopping season, has historically been the year's busiest shopping day.
Philadelphia birthed the Black Friday name after suffering massive traffic jams. There have been assaults, even deaths around the country as shoppers shove past each as they rush to their desired items.
Stores typically open their doors at 4 a.m., though this year many opened at midnight.
"Target is the place to be this year," said Amber Averill, also from Altona and second in line.
The pair brought chairs and blankets for warmth and food for energy.
"We both come together every year," Averill said. "We come prepared."
They make friends and see many of the same people each year toward the front of the line.
"We got quite a few here we know," Nephew said.
Some people nearby at Best Buy arrived as early as 8 a.m. The line stretched the length of the building and wound through the parking lot.
By 10 p.m., more than 500 people stood in Best Buy's line.
"I'm getting a few items for Christmas; a $200 42-inch television and some video games," said Mike McAdam, who made the trip from Canada with his brother Chris.
The pair stood toward the end of Best Buy's line.
Down Route 3, Walmart shoppers rushed through the store, the checkout lines swelling to the back of the building. Items nearly fell out of shopping carts filled with toys, movies, computers and televisions.
Walmart held its first event at 10 p.m. and the second one was planned for the same time as Target and Best Buy at midnight.
(Continued on Next Page)
Prev Next
Vote on this Story by clicking on the Icon