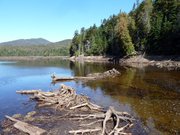 Back in 2003, after the Open Space Institute acquired the historic Tahawus Tract; I couldn't wait to visit the former private lands, which encompassed over 10,000 acres of wild lands and waters.
The purchase included the 450-acre, Henderson Lake, as well as the Preston Ponds. The new parcel offered the potential of a brand new, water route, which would permit paddlers to access Duck Hole, located at the very core of the High Peaks Wilderness Area.
Surrounded by the High Peaks of MacNaughton, Santanoni, Sawteeth, and Seymour Mountains, Duck Hole also serves as the intersection of four trails, the Bradley Pond Trail, the Lake Placid-Northville Trail, the Henderson Lake Trail and the Ward Brook Fire Truck Trail. It is located over 7 miles from the nearest trailhead or road. Solitude is the most outstanding feature.
Prior to October 2006, the route had been closed to the public for well over a century. But when it was finally opened, I was there waiting, with pole, and paddle ready. My first venture over the new route into Duck Hole, took place over the weekend of Halloween, in October 2006. It was a cold, wet, windy and white affair from what I could see at the time. Peering through blowing leaves, driving snow and pouring rain, it appeared to be a very scenic site.
Duck Hole Pond is considered to be the source of the Cold River, and several small brooks and streams feed the pond, including Roaring Brook and the outlet of the Preston Ponds.
After the initial visit, I returned to Duck Hole for a week-long trip in the spring of 2007, to fish, hike and explore. Once again, I was greeted by high water conditions, with water levels that were approximately 3 feet above normal.
It was during this visit, that I first became aware of the fragile nature of the Duck Hole Dams. The main outlet dam, which at one time also served as a bridge to the Bradley Pond trail, was seriously deteriorating.
Joe Hackett is a guide and sportsman residing in Ray Brook. Contact him at brookside18@adelphia.net
(Continued on Next Page)
Prev Next
Vote on this Story by clicking on the Icon