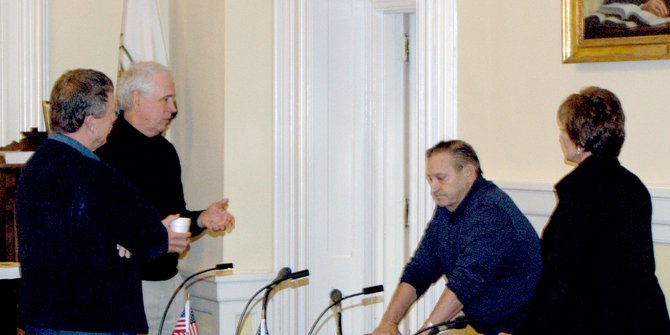 continued — "It would be difficult for me to say blanket cut them all," Keene Supervisor William Ferebee said.
The committee also voted to eliminate $500,000 in equipment spending under the highway department portion of the budget.
The committee also looked into having a tax sale, which could generate up to $1 million in the collection of unpaid taxes in the first months of 2012, according to Morency.
"We are trying to bring in revenue that we already have on the book," Morency said. "We are looking hard at a three-year tax sale.
The committee also talked about having an amnesty period, but Palmer said he was concerned about setting a precedent.
"My concern is tax flow," Palmer said. "If we do one amnesty, people are going to say that they are going to do another amnesty and we will just wait until then to pay our taxes."
Palmer added that he would also look at putting $3.5 million in fund balance into the budget to help bring the levy down.
Following the budget committee meeting, the members of the Essex County workers' union were to meet to discuss a proposal from the county that would have resulted in a contract extension with no pay increases in 2012 and 2 percent increases in 2013 and 2014.
According to Board Chairman Randall "Randy" Douglas, all indications were that the union voted against the option, which will lead to cuts in personnel.
"I am hearing feedback that they did not accept our offer of no increase next year and 2 percent increases in the next two in order to extend the contract," Douglas said. "We will begin to start the process of eliminating positions, and we are looking at between 12 and 25."
Vote on this Story by clicking on the Icon