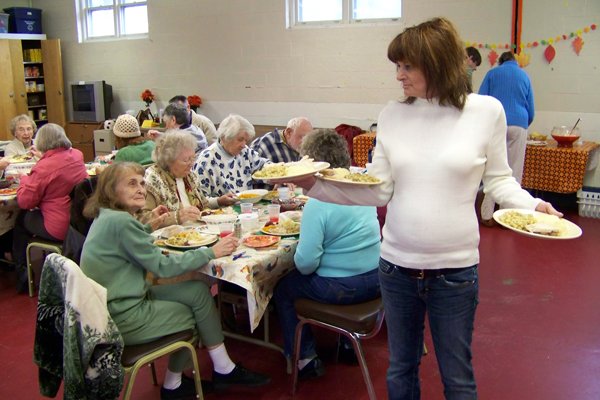 Queensbury — For at least four more months, Warren County's seniors will continue to enjoy the aroma of food being cooked up at the mealsites situated in upcounty communities.
After hearing from a number of concerned citizens, county Supervisors decided Friday to postpone their planned shutdown of kitchens at the county's eight mealsites.
Faced with a standing-room-only crowd, the county leaders reversed their plans on the mealsite changes as they passed a 2012 budget calling for $145.37 million in appropriations.
The mealsite program has been granted a reprieve through April 30, while the supervisors continue to review the program.
The approved spending plan represents a 1.7 percent increase in the tax levy. It calls for closing down the county departments of Human Resources and Planning, as well as mandating deep cuts to public works projects, and a few layoffs.
Friday Nov. 18, a standing-room-only crowd of people surrounded the supervisors as they reached their budget decisions during a three-hour marathon meeting. A number of those attending spoke out against cutbacks in services.
The supervisors had planned to shut down the mealsite kitchens, terminate five of the employees, and have the meals prepared in a centralized location, then delivered to the satellite mealsites. The change would have saved county taxpayers about $124,000.
The proposed plans have prompted objections from citizens in outlying communities, who have said such changes would severely diminish the social experience that the elderly now enjoy daily at the mealsites.
Father Jim Loughren of Bolton aired such an opinion.
"The quality of services is going to suffer," he said, noting that the daily lunch is a highlight of many seniors' lives.
Others cited the safety problems associated with driving longer distances, particularly in winter weather.
Raising objections to the mealsite changes were Chester Supervisor Fred Monroe, Bolton Supervisor Ron Conover and Johnsburg Supervisor Sterling Goodspeed and Lake Luzerne Supervisor Gene Merlino.
(Continued on Next Page)
Prev Next
Vote on this Story by clicking on the Icon