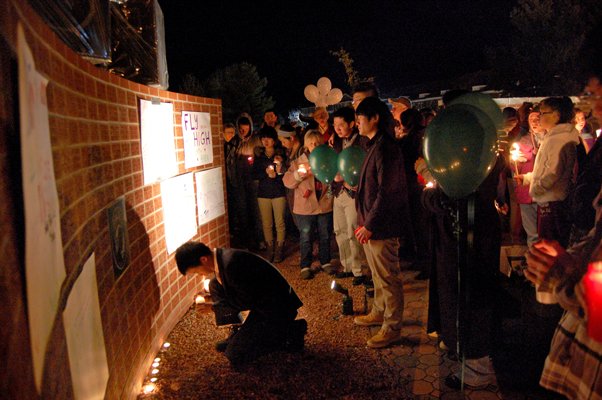 Plattsburgh — The news of the lives of four teenagers being cut tragically short last week received an overwhelming response from the North Country.
Hundreds of people in the community came together at the U.S. Oval Nov. 16 for a vigil to honor the lives of Brandon (Sorrell) Rennert, 17, Peru; Samantha Donah, 17, Plattsburgh; Dat T. Ong, 17, Vietnam; and Chu Xiong, 18, China. Rennert and Donah, local teenagers who went to the Peru and Beekmantown central school districts, and Ong and Xiong, foreign exchange students who attended Seton Catholic Central School, lost their lives in a motor vehicle accident during the early evening hours Nov. 15.
Within hours of the news of the tragedy, Peru Central students Hayden Daugherty and Alexis Bushey organized a vigil at Plattsburgh Barracks Veterans Park through a Facebook event page. The response saw many turn out like Ryan Garrow, a friend of Rennert, who remembered him from attending CV-TEC together.
Garrow said their friendship was like many friendships for kids their age with its "ups and downs."
"But, we always seemed to come back together and be friends again," said Garrow. "We're all going to miss him. And, there's really nothing anyone can do to change it ... Everybody's taking it hard, but everyone's going to pull through."
Haylee Brean, a friend of Donah, said she remembered Donah as being a very well-behaved person.
"She was the best girl. She did nothing bad, even when you tried to make her," said Brean, trying to add levity to the somber affair. "She always gave me the best advice and she was always there every step I needed her to be."
"I talked to her yesterday morning," she continued. "This doesn't seem real right now."
One student who referred to himself as Joe, approached the microphone at the vigil and recalled fun times with Ong, like making paper cranes in class together.
(Continued on Next Page)
Prev Next
Vote on this Story by clicking on the Icon