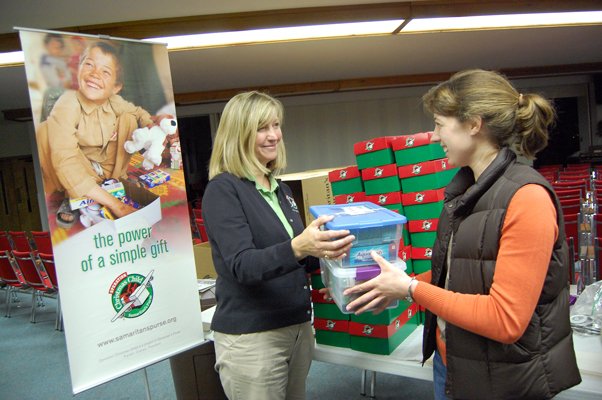 continued — "Last year, we donated 5,094 shoe boxes," she continued. "Every year it's been a little bit more."
What's added to Alford's amazement of the generosity of the community is the ability of people to dig deeper into their pockets despite the state of the national economy and in addition to helping those affected locally by Hurricane Irene.
"We have people in Ausable and Keene who were hit so hard themselves," said Alford. "I think that will have an effect [on donations], but people continue to donate. It's a great thing to see how generous people are."
Anna Pape of Chazy has been donating locally to Operation Christmas Child for the past four years after coming to the area from New Hampshire where she contributed to the cause there. What motivates her, said Pape, is thinking about how privileged she was as a child.
"I never wanted for anything. I had a very blessed childhood," said Pape. "When I think about kids in other countries who have very, very little, and how they are delighted with simple things we may take for granted, it's a good feeling to know shoe boxes of things like paper, pencils, hair barrettes and even a Slink can mean a lot to them."
Judy Burnell of Plattsburgh donated to Operation Christmas Child for the first time this year, saying she was compelled to do so when she learned of the project and who it helps.
"I just realized there are so many children in this world who are underprivileged and don't get gifts," said Burnell. "I wanted to do at least a couple shoe boxes ... It's such a worthwhile thing."
"I just wish I could see these kids when they open their gifts," she added.
Vote on this Story by clicking on the Icon