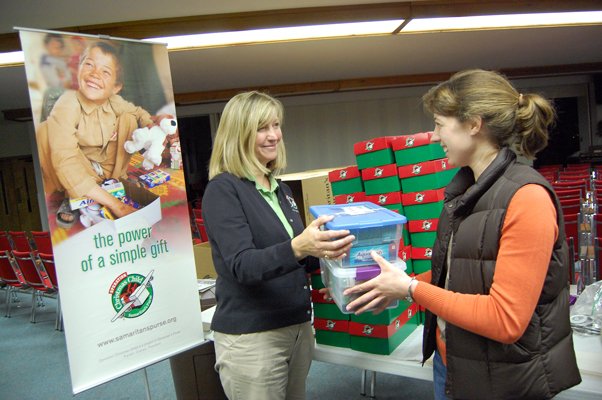 Getting involved
Operation Christmas Child will accept donations locally at First Assembly of God, 164 Prospect Ave., Plattsburgh, weekdays from 10 a.m. to 5 p.m. through Monday, Nov. 21; from 10 a.m. to 3 p.m. Saturday, Nov. 19; and 1 to 5 p.m. Sunday, Nov. 20.
According to Samaritan's Purse, shoe boxes or small plastic containers may be filled with school supplies, toys, hygiene items and letters of encouragement.
For more information, including instructions on how to pack a shoe box, visit www.samaritanspur... or call 563-5799.
Plattsburgh — The countdown until Christmas may be something that officially begins with many people after Thanksgiving, but the countdown to help underprivileged children in developing countries through one specific effort is one that is already under way.
Operation Christmas Child, which provides shoe boxes of school supplies and other gifts to children across the globe, is nearing the end of its national collection week, The philanthropic effort headed by Samaritan's Purse, an international Christian relief and evangelism organization, began collecting donations Nov. 14 and will wrap up its nationwide effort this Monday, Nov. 21.
Rita Alford, coordinator for the Operation Christmas Child collection center at the First Assembly of God in Plattsburgh, said she's impressed with the amount of donations received this week.
"We've gotten over 200 shoe boxes so far," said Alford. "That's a pretty good start."
Operation Christmas Child was started more than 20 years ago by a couple in Wrexham, Wales, who first decided to help underprivileged children in Romanian orphanages. The effort grew in 1993 when the Rev. Franklin Graham, international president of Samaritan's Purse, adopted Operation Christmas Child.
First Assembly of God has been involved in the effort for more than 10 years, said Alford, with support growing each year.
"We've mainly had people from the Plattsburgh area [donating]," said Alford. "But, it's grown. We have people who come from Morrisonville, Cadyville, Peru, Keeseville — even Malone."
(Continued on Next Page)
Prev Next
Vote on this Story by clicking on the Icon