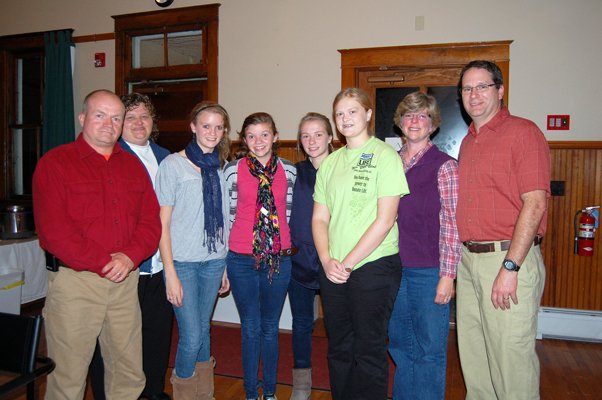 Westport — Westport Chamber of Commerce officials honored Ben Sudduth as their 2011 Citizen of the Year in a ceremony on Nov. 10 at the Westport Heritage Center.
"We always ask what our favorite part about Westport is, and the answer is always the same, the people, and tonight's man of the year, Ben Sudduth, has exemplified outstanding qualities and acts of generosity," Westport Chamber of Commerce Board member Molly Kasriels said.
Sudduth was honored by the New York state Senate for his countless accomplishments and outstanding contributions he has made to the state and the nation in January 2011. Now the community of Westport has come together to show its appreciation and acknowledge his accomplishments.
"When Ben first came to Westport and joined the fire department I thought to myself, 'Great, another newbie,'" said Jim Forcier, Westport Chamber of Commerce Board member and CEO of Chazy Westport Communications. "Then the first fire we went to I was ahead of Ben on the hose, and he was right behind me with Scott air packs and the whole nine yards. We go in, and I thought he was going run me over. I was scared to death. He has certainly given a great run for this community."
Sudduth moved to Westport in 1989 and started work at Camp Dudley. Before moving to Westport, he served as a U.S. Marine from 1984 to 1989 as an expeditionary air field technician and an embassy guard in Germany, a member of the U.S. Air Force Reserves, and in 1999 he was transferred to the Vermont Air National Guard, where he remains active with the 158th Fighter Wing.
In March 2002, he was deployed to Afghanistan and served during Operation Enduring Freedom until January of 2003. He was awarded the Army Commendation Medal and the Vermont Air National Guard Hometown Salute upon his return.
(Continued on Next Page)
Prev Next
Vote on this Story by clicking on the Icon
More like this story