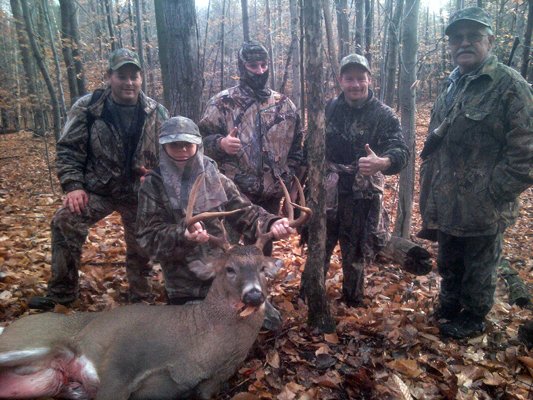 Hunters, by pursuit of their sport, are responsible for habitat preservation, land conservation and environmental control. In the process of harvesting a whitetail deer, licensed hunters contribute far greater benefits to the ecology of the natural world, than they derive. Unfortunately, there are a number of advocacy groups that prefer to distort this fact, including those who profess to represent animal rights.
In order to protect the rights of licensed hunters to pursue their sport, several states have passed legislation to insure the individual's right to hunt.
Thirteen states currently provide citizens with the right to hunt and/or fish in their constitutions. Vermont has provided such protection since 1777. Constitutional provisions have been adopted in recent years, in Alabama, Arkansas, Georgia, Louisiana, Minnesota, Montana, North Dakota, Oklahoma, South Carolina, Tennessee, Virginia and Wisconsin.
In 2010, 14 states considered similar legislation to amend their state constitutions. In 2011, Kentucky and Wyoming passed legislation to include the issue of a right to hunt and fish on the state ballot in 2012. Sadly, to date, the New York legislature has not considered any such proposal.
I've often wondered where such legislation come from, and why is it necessary? The right to hunt or fish on public lands is as old as ancient Rome, where it was considered a right of natural law.
In England, such rights were restricted to nobility and the elite. However, such concepts were rejected by the colonies and eventually by the United States. The right to hunt and fish were actually considered for inclusion in the Constitution.
Fortunately, while hunters remain a minority in New York, their right to hunt is protected by "hunter harassment laws," as defined in Conservation Law, § 11-0110. Interference with lawful taking of wildlife prohibited.
The law explains a person is guilty of interfering with the lawful taking of wildlife by a person properly licensed when, "with intent to prevent the taking of wildlife, in season ... he strikes, shoves, kicks or otherwise subjects the licensed person to physical contact, or attempts or threatens to do the same."
Joe Hackett is a guide and sportsman residing in Ray Brook. Contact him at brookside18@adelphia.net
Vote on this Story by clicking on the Icon