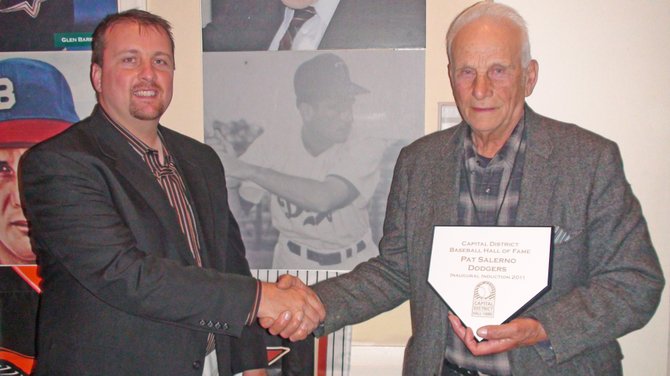 continued — Salerno played the 1952 season with Valdosta in the old Georgia-Florida League. His team won the league championship in a one-game playoff. Salerno played a key role in the win, laying down a sacrifice bunt that led to the winning run.
"I still have that jersey," he said. "I was number 7, 7 for good luck. That year I felt lucky."
Salerno was drafted after the season and spent the next two years in the Army. He returned to baseball in 1955 and played through 1957.
That was the golden era for the Brooklyn Dodgers who won their only world championship behind Podres in 1955. The outfield included all stars Duke Snyder, Carl Furillo and Sandy Amoros. Snyder is a member of the baseball hall of fame.
"It was really hard for me to break into the Dodger line up," Salerno said. "I got to triple A (one level below the major leagues) in St. Paul, Minn., but that was it. I hit .300 that year (1957) and didn't get called up. In 1958 when I didn't get called up I packed my duffel bag and came home. I wasn't going to make it."
He appeared in 438 professional games with 427 hits, a .262 batting average, 45 doubles, 26 triples and 24 home runs. He played with future Dodger stars Maury Wills, John Roseboro, Tommy Davis and others. He played against future major league all stars like Steve Barber of the Orioles — who served up two home runs to Salerno.
"I had a great career," Salerno said. "I wish I could have played in the majors, but I played on some great teams, met really good people and traveled all over the country. I really enjoyed baseball. I gave it 100 percent. I'm happy with my career."
Salerno came home to Port Henry and worked the next 32 years at the Grand Union. He's worked the last 20 years at the Basin Harbor Club in Vermont.
Vote on this Story by clicking on the Icon