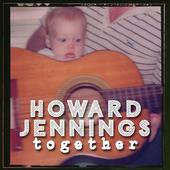 New York City — Howard E. Jennings III has unveiled a new album and it's one he couldn't be happier with, he said.
"I've never been more proud of a record than this one," the Cadyville native said of his album, "Together." "I think it's the most natural, honest, straight-from-the-soul album that I've recorded."
The five-song EP was funded through Kickstarter, a website that helps people and groups raise money for creative projects. Jennings decided to use the website as both a way to fund the project and to bring him closer to fans of his music.
"I've always wanted to provide a way for fans to get involved with the process of making a record, and Kickstarter was the platform that made it possible," said Jennings. "It allowed folks to dive into the project as much as they'd like, from receiving a T-shirt and/or a signed CD to performing on the record and/or receiving a private house concert as a reward for their contribution.
"Having that sincere connection with family, friends and fans was something I'll always remember," added Jennings.
The album contains the smooth sounds and guitar playing Jennings has become known for both locally and around the world. His favorite songs on the EP include "Get Ourselves Together" and "When You Need Me."
"These songs came to me the easiest and really meant the most on a personal level," he said. "They felt complete right away, whereas a couple of the others songs, I re-wrote several times until they felt right."
Jennings drew his inspiration for the album from his fans and, in particular, the ones who helped back the album's production.
"The kind people that backed this project were my inspiration," he said. "This record literally would not have been made without their commitment and extreme generosity."
"Having the motivation of the supporters behind me made me want to put out the best songs possible," he added.
Jennings' new album and more on his career can be found on his website, www.howardjenningsmusic.com and www.facebook.com/howardjenningsmusic.
(Continued on Next Page)
Prev Next
Vote on this Story by clicking on the Icon