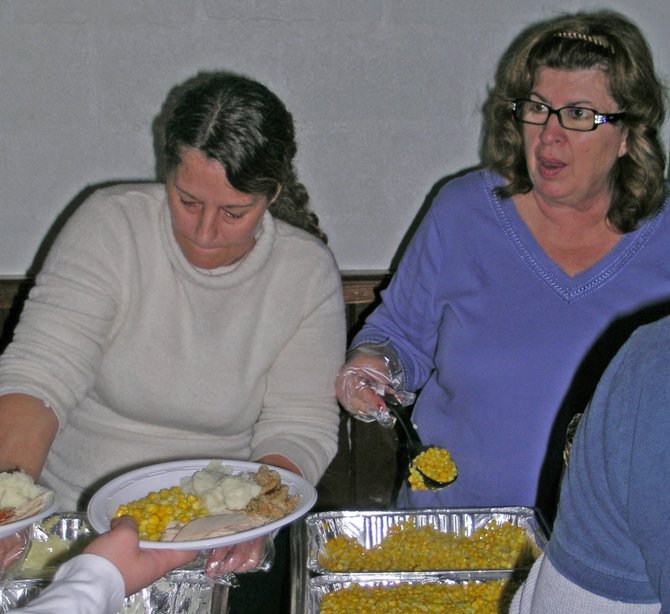 continued — Volunteers are needed to carve turkey, mash potatoes, cut pies, set up, serve and help clean up. Interested people can contact Hirtle at 597-3398 or Yvonne DuShane at 597-3212.
"We are limited in the delivery of meals this year," Hirtle said. "If you are a Crown Point resident and unable to physically join us for dinner and would like a meal, we are asking that you call 597--3398 and send someone to pick-up your meal at the Methodist Church."
The Knapp Senior Center is also serving a traditional meal from its kitchen on that day for senior citizens of the community beginning at 5 p.m.
"This is a total community effort that will ensure fellowship and a traditional hot meal for those who might not have one, otherwise, here in Crown Point," Hirtle said.
Ticonderoga
TICONDEROGA — Everyone will have access to Thanksgiving dinner this year.
The third annual "Miracle on Montcalm Street — Adirondack Dinner Table" will be shared Thanksgiving day noon to 3 p.m. at the Ticonderoga fire house.
"We are not serving anyone," organizer Tricia Stonitsch said. "We are sharing our Thanksgiving with others."
The entire event is designed to have a family feeling, she said.

"Family, friends, company, food, laughter, tears, Thanksgiving!," Stonitsch said. "Time shared with another. That's what its all about."
The entire community is invited to attend.
"Over the past two years we have so enjoyed bringing that homey feeling to the Ticonderoga fire house," Stonitsch said. "From the moment you walk into the foyer, which looks like a country kitchen, to being escorted to the dining room of individual tables — adopted by families, set with their own tableware, beautifully decorated — the feeling is 'Welcome friend, we've been waiting for you.'"

Each guest is received and brought to a table. Many of the menu items are prepared by families in their homes and brought to the firehouse Thanksgiving morning. Volunteers then make turkey, gravy, smashed potatoes and sweets.

Vote on this Story by clicking on the Icon