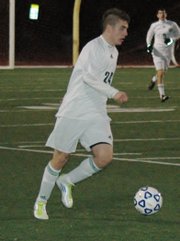 Plattsburgh — The Chazy girls and boys soccer teams each scored two goals in earning return trips to the NYSPHSAA Class D Final Four with wins at Plattsburgh High School Nov. 12.
The Lady Eagles got goals from Caitlyn LaPier (35th) and Rachel Pombrio (62nd), who assisted on LaPier's goal as they advanced with a 2-1 win over Chateaugay.
"They scored their goal on a direct kick (in the 61st minute) and we were able to come right back and respond less than two minutes later," Lady Eagles head coach Karin Sherman-Trombley said.
Sherman-Trombley said that Chateaugay had a good gameplan and that the Eagles knew that they had to get an advantage.
"They packed it in and went to the ball very well," she said. "They did a good job knocking us out of our passing game. Our defense was very strong, and we did a good job getting to the ball and were able to come out with a win."
Sherman Trombley also said that it was nice to get a three-point night out of Pombrio, who scored her goal on an assist from Christina Emery.
"It's great to have Rachel come off the bench like that and put the ball in the net," she said.
Katharine Tooke made four saves in the victory. The Lady Eagles next play on Saturday, Nov. 19, against Section II representative Remsen at Cortland High School at 11 a.m. The winner will advance to the state championship game, to be played at 11 a.m. Sunday, Nov. 20, at Tompkins-Cortland Community College.
"We're ready to go," Sherman-Trombley said. "This is the fourth year in a row since I have been coaching and seventh year in a row as a program. We have nothing to lose, and we are ready to play some more soccer."
In the boys game, Brandon Laurin scored on a Nathan Reynolds assist in the 44th minute and Josh Barriere scored on a Nelson Pelton assist in the 61st minute as the Eagles scored a 2-0 victory against Parishville-Hopkinton.
(Continued on Next Page)
Prev Next
Vote on this Story by clicking on the Icon