continued — Katharine Tooke made four saves in the victory. The Lady Eagles next play on Saturday, Nov. 19, against Section II representative Remsen at Cortland High School at 11 a.m. The winner will advance to the state championship game, to be played at 11 a.m. Sunday, Nov. 20, at Tompkins-Cortland Community College.
"We're ready to go," Sherman-Trombley said. "This is the fourth year in a row since I have been coaching and seventh year in a row as a program. We have nothing to lose, and we are ready to play some more soccer."
Photo Gallery
Chazy boys soccer regional finals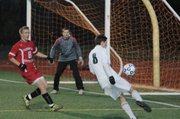 Pictures from the Nov. 12 regional final with the Chazy Eagles boys soccer team against Parishville-Hopkinton.
In the boys game, Brandon Laurin scored on a Nathan Reynolds assist in the 44th minute and Josh Barriere scored on a Nelson Pelton assist in the 61st minute as the Eagles scored a 2-0 victory against Parishville-Hopkinton.
"They were well organized and they always defend well," Eagles head coach Rob McAuliffe said. "We knew that if we were able to get the first goal, things could open up and we could get another, and that is what happened."
McAuliffe said it was nice to get scoring from the freshman in Barriere, who has been good when given the opportunity.
"Nelson made a great individual play and service into the box, and Josh was waiting to get a big goal," McAuliffe said. "It felt good to get going in the second half."
The Eagles have not allowed a goal since an Oct. 13 2-0 loss to the Willsboro Warriors, who they beat 1-0 to advance to the regional round.
"We know that we have to defend well and that is what we are doing right now," McAuliffe said. "We came into this playoff with a good mindset, and we are looking forward to (this) weekend."
The Eagles will play Section V champion Alfred-Almond on Saturday, Nov. 19, on the Faller Field turf field at Middletown High School. The winner will play either Section III's Hamilton or Section II's Fort Ann at 1 p.m. on the grass field of Faller Field.
Vote on this Story by clicking on the Icon