Chazy — The argument could be made that Section VII has the best Class D soccer in the state of New York.
The Chazy Eagles are the standard-bearer for that statement, as the five-time and back-to-back defending New York State Public High School Association Class D champions are entering Saturday's Regional championship game against Parishville-Hopkinton looking for a shot to three-peat.
Photo Gallery
Elizabethtown-Lewis v. Chazy Class D boys soccer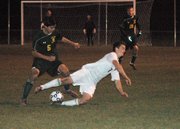 Pictures from the Section VII/Class D boys soccer semifinal between the Elizabethtown-Lewis Lions and the Chazy Eagles Nov. 2.
To get to this point, the Eagles (16-3-0) had to battle their way through a 1-0 overtime victory against the Elizabethtown-Lewis Lions and then reclaim their sectional throne with a 1-0 win against the Willsboro Warriors, the team responsible for two of the three losses on the Chazy record.
The combination of games left people broadcasting, reporting and watching saying that any of the three teams would have made a solid representative for Section VII in the state playoffs and would have been a favorite to keep the state title banner in the North Country.
Last season, the Eagles traveled a similar road, beating the Lions 1-0 in the semifinals before scoring a 2-0 win against the Warriors in the finals. In the Regionals, Chazy scored a 2-0 win over Parishville-Hopkinton, a 5-0 win over Section II champions Fort Ann in the semifinals and a 1-0 win against Hamilton in the state title game.
In the most recent New York State Sportswriters Association poll, the Eagles were ranked fifth, with the former second-ranked team in the state — Willsboro — falling to 12th and the ELCS Lions ranked 15th. Only Section III, located in the Syracuse area, equals Section VII, the North Country, with three teams in the top 15 (top-ranked Hamilton, eighth Old Forge and 14th Cincinnatus).
Photo Gallery
Chazy v. Willsboro Class D title game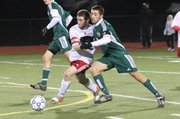 Pictures from the Section VII/Class D boys soccer championship game between the Chazy Eagles and the Willsboro Warriors.
Because of the competition between the three schools, Eagles head coach Rob McAuliffe said that the Section VII tournament is great preparation for the states.
(Continued on Next Page)
Prev Next
Vote on this Story by clicking on the Icon