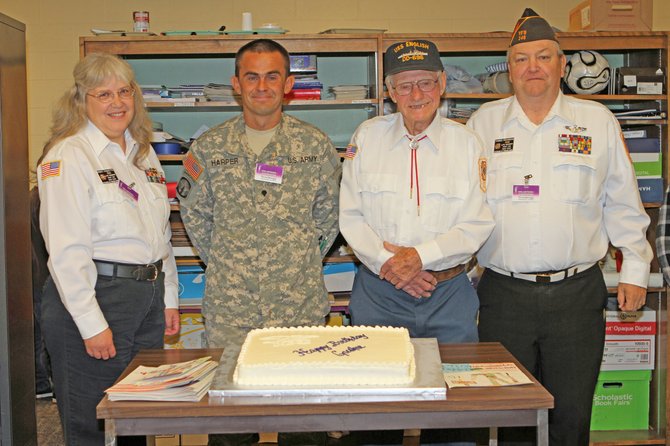 Ticonderoga — Mark Gagnon celebrated Christmas in 1967 as a Marine fighting the Vietnam War. Holiday spirit may have been in short supply, but Gagnon had a treasured possession — a letter from the Ticonderoga Elementary School students in room 106.
"Our class was thinking about how lonely it must be around Christmas for you in Vietnam," the Dec. 4, 1967, letter read. "So, we decided to write to you just to let you know we appreciate the brave things you are doing for us and our country."
The letter was written by Brenda Denny's sixth grade class and addressed "To a Soldier Serving in Vietnam." Somehow the letter ended up with Cpl. Gagnon of the 2nd Battalion, 4th Marine Division.
Gagnon, who lived in Cadyville, died in May. After his death family members found the letter — 44 years later — along with citations, medals, discharge papers and other items in Gagnon's personal effects.
Gagnon's bother, Steve, recently contacted John McDonald, Ti school superintendent, trying to reach members of that sixth grade class. He enclosed a copy of the letter.
"At the time it was written, support for troops serving in Southeast Asia was not always positive," Steve Gagnon said. "There was a lot of anti-war sentiment, including protest movements, demonstrations and lack of respect for soldiers returning home.
"This letter was a little sign of support," he added. "I do not think the class realized what impact it had and how much it meant to the soldier who received it. This was one of his most cherished possessions.
"It seems a bit ironic, a letter written in Ticonderoga, sent half way around the world, would be received by a soldier who lived his whole live less than 100 miles from the school where it was written," Steve Gagnon said. "This is a wonderful thing the class did and I hope they and other classes continue to write letters and show support for our military. The way it was addressed, I guess it could have been delivered to any one of thousands of soldiers serving."
(Continued on Next Page)
Prev Next
Vote on this Story by clicking on the Icon