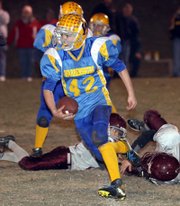 Warrensburg Youth Football coach Gary Baker knew his team had a real challenge ahead of them Saturday night, when his water bottle, next to the team bench, iced over.
His players, fifth and sixth graders, could see clouds of frozen steam when they exhaled. Temperatures were dropping as the team was facing the tough and skilled Whitehall squad in the first-ever Superbowl of the Northern Adirondack Youth Football League.
But under the lights on the Corinth field on Oct. 5, the young 31 gutsy Little Burghers fought with determination and focus through four quarters and brought home a hard-won 39-26 victory and captured the regional youth football championship.
With a rushing attack led by Greg Shambo, the Burghers moved the ball over 400 yards on the ground. The virtually mistake-free offense was piloted quarterback Evan Macduff.
The Burgher game play featured a mixture of two rushing attacks — the Double-Wing offense similar to their Burgher high-school counterparts, and a Power-I formation. The former is a wedge of players surrounding the ball carrier that smashes through the opponent's defensive line, and the latter is a lineup of the quarterback having a choice of handoffs to either the tailback behind him or the wingback off to one side.
The dual attack kept Whitehall's hard-hitting defense at bay.
After the Burghers first demonstrated lackluster tackling and gave up a touchdown to Whitehall on their first drive, Warrensburg's coaches advised their players to apply more aggressive follow-through to bring down their opponents.
The Burghers dialed up their efforts as each team scored in a back-and-forth battle. The Burghers modified their defense in response to Whitehall's unbalanced line.
Midway in the game, the Burghers' determination made the difference, providing a turning point that provided momentum for the rest of the contest.
At the Whitehall 20, on fourth down and three yards to go, the Burghers handed the ball to fullback Mike Baker, who charged through the Railroaders for a first down, leading to a score. In the next series, the Burghers recovered a fumble and scored.
(Continued on Next Page)
Prev Next
Vote on this Story by clicking on the Icon