Elizabethtown — Incumbent Elizabethtown Supervisor Noel Merrihew III believes that a one-word response he made less than 24 hours before the polls opened Nov. 8 may have cost him his position.
That word was "yes."
Merrihew suffered a loss in his quest for a sixth term as supervisor, receiving 217 votes, according to the unofficial results released by the Essex County Board of Elections, compared to 226 votes cast for challenger Margaret "Maggie" Bartley. There are currently 42 absentee ballots to be counted.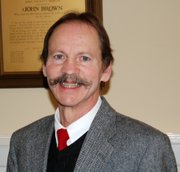 After the election, Merrihew said he felt the election may have swung on the vote he cast at the Nov. 7 Essex County Board of Supervisors meeting in favor of exploring the sale or leasing of the Horace Nye Nursing Home.
"I think the Horace Nye vote cost me 17 votes for sure," Merrihew said. "I'm sure that was a factor, but if I had it to do over again, I would have cast that same vote today."
Merrihew said he was confident that he made the vote in the best interest of the county, whether or not it would have cost him in the following day's election.
Bartley said that she was thankful to her supporters and those who ran for positions in town government.
"My thanks goes to all the people who took on the task of running for office," Bartley said. "Without willing candidates a Democracy can not work."
Bartley said that her main focus was working with the residents of the town in plotting a future course.
"I'm excited about working with all of the people in our community to keep Elizabethtown moving forward," Bartley said. "One of my first efforts will be to form four citizen committees to help review and make recommendations on improving our Golf Course, Parks & Trails, Town Beautification, and most importantly, Emergency Preparedness."
(Continued on Next Page)
Prev Next
Vote on this Story by clicking on the Icon