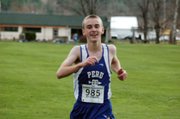 Cross Country
Boys
The Beekmantown Eagles, Saranac Chiefs and Seton Catholic Knights scored the Class B, C and D titles in boys cross country at the Cobble Hill Golf Course in Elizabethtown Nov. 4.
Dan Lennon of Peru, who has spent the season as one of the top two runners in the state, scored the individual victory with a time of 14.31, two seconds off the Cobble record.
Jeriqho Gadway of Plattsburgh High finished second, and was followed by Mitchell Ryan and Barrett Waling of Seton Catholic, Josh Wade of Saranac and the duo of Colin Quackenbush and Jordan West of Beekmantown.
Matt Simpson finished ninth overall for the Eagles and was followed by Indians Jared McLean and Kyler Agoney. Zach LePage of Saranac finished 12th, while Landon Gosselin of Northeastern Clinton finished 21st.
Girls
The Peru Indians, Saranac Chiefs and Seton Catholic Knights earned Section VII championships, while Margaret Champagne scored her second win in as many weeks against top competitors Emma Deshaies of Plattsburgh High and Ashley Leta of Peru.
Champagne crossed in a time of 18:23, four seconds ahead of Deshaies, who reversed her finishing position with Leta, who was 17 seconds behind the Hornet harrier.
Meghan Mazzella finished fourth for Peru and was followed by Nina Armstrong of Lake Placid, Phoebe Christopher of Seton, Cheyanne Dobozy and Maria Remillard of Peru, Maile Sapp of Beekmantown, Samantha Smith of Northeastern Clinton and Elena Beideck of Saranac Lake.
Gabby Armstrong of Lake Placid finished 12th, while Morgan Kelly of Saranac was 14th.
Volleyball
Class B
The Beekmantown volleyball team completed the Section VII season with a 25-15, 25-13, 25-20 against the Peru Indians Nov. 5.
Kendra LaFountain had 17 digs for the Eagles, while Molly Sorrell had four kills, with Shannon Ryan adding eight kills and three blocks and Kianna Archer tallying 22 assists.
(Continued on Next Page)
Prev Next
Vote on this Story by clicking on the Icon