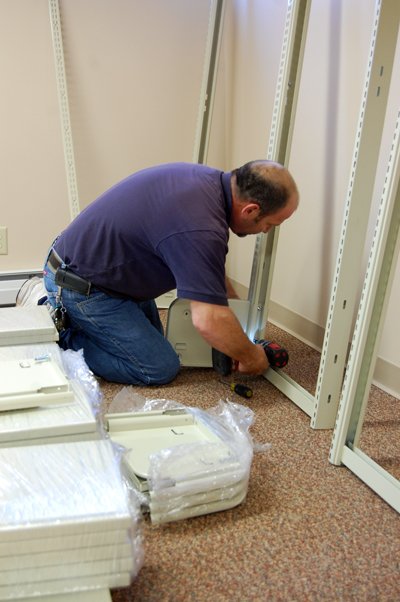 continued — Furnishings for the new library's reading rooms are also on order, Castine also noted.
The project began two years when the library received a matching grant to cover the cost of making the building handicap-accessible and renovating its ground floor, said Castine. That grant was for $160,000, with Friends of the Library, the library's fundraising arm, required to provide $80,000.
Through various fundraisers and charitable donations, the organization was able to do so, said Castine.
The second and current phase has consisted of providing furnishings and other equipment for the library at a cost of an additional $80,000, which has been able to be raised by Friends of the Library, thanks to the help of the community, said Castine.
"Our fundraising team has done a great job, and we received some sizable donations from room namings," said Castine, noting higher-level donors were able to have a room named after them in the new library.
"The second year has been a little harder, but things are coming right along," she added.
What will help the overall cost of the move — estimated between $240,000 and $250,000 — will be the efforts of Friends of the Library and grants like the ones already received, said Castine. Last week, Castine said she was notified the library was awarded a $10,000 grant from the Charles R. Wood Foundation through the Adirondack Community Trust.
"We were so delighted," Castine said of the news. "Everything just seems to be coming together."
The library is set to move to its new location Saturday, Nov. 26, with help of the Chazy Lions Club.
"It's a great effort on their part and very generous," said Castine. "We're so appreciative of them."
An official grand opening is expected to be held in December, with details forthcoming.
Those interested in continuing to help the Chazy Public Library relocation project may contact Castine at 846-7585.
Vote on this Story by clicking on the Icon