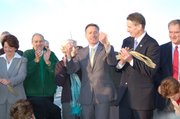 Crown Point — Hundreds of people lined up to cross the new $76 million Lake Champlain Bridge Monday, Nov. 7 — bicyclists, walkers, runners and, finally, the motorists.
First they had to get past New York Lt. Gov. Robert Duffy, Vermont Gov. Peter Shumlin and a group of VIPs giving speeches and cutting a golden ribbon. Once the hour-long ceremony was over, around 3:30 p.m., the podium was removed, the white chairs stacked against the guard rail, and the crowds streamed across the bridge to Vermont.
It had been more than two years since the 1929 bridge closed here on Oct. 16, 2009. Commuters and visitors had to take a free ferry to get between Crown Point, N.Y. and Addison, Vt. when the service opened on Feb. 1, 2010. The loss of the old bridge was described multiple times as "an inconvenience."
While politicians lamented the old bridge — remembered well by more than a dozen '29ers who had been at the original Aug. 26, 1929 bridge opening — Nov. 7, 2011 was the beginning of a new chapter in the history of Lake Champlain.
"I want to point out that this is day one," said Rep. Bill Owens, D-Plattsburgh. "We're going to count forward from here."
The concept of linking the two states with a new bridge was a common theme among the speakers.
"When I looked out, as I was coming today, I saw the hands of the community, of the state of New York and the federal government reaching out to one another to bring New York and Vermont back together again," Owens said.
While some spoke of the bridge as a metaphor — connecting the common values of Vermonters and New Yorkers in the Champlain Valley — others described it as a transportation link essential to the everyday lives of residents.
(Continued on Next Page)
Prev Next
Vote on this Story by clicking on the Icon