Plattsburgh — Students in the Council for Exceptional Students at SUNY Plattsburgh were excited to meet their guest of honor at a Nov. 3 event, and maybe give him a little rub behind the ears.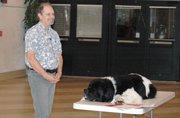 The guest was Rowdy, who for the last eight years has teamed with Elizabethtown-Lewis math teacher Ralph Holzhauer to help students at the school in reading and writing.
Holzhauer said he was used to the attention going to his four-legged partner.
"I've gotten used to walking through the halls and the kids saying hi to Rowdy but not to me," Holzhauer told the group of students and others who attended the presentation at the Angell Center on the PSUC campus. "I'm just the math teacher on the other end of the leash."
Holzhauer said that Rowdy, a Newfoundland, has been trained in numerous areas and has received Versatile Newfoundland recognition.
"It's like being named to the hall of fame for his breed," Holzhauer said.
Holzhauer talked about how Rowdy is used with students in the elementary classes with dog-assisted education and therapy, including reading and writing programs, special instruction programs, assisted activities and therapies and extra curricular activities.
Read more in the Nov. 12 edition
Vote on this Story by clicking on the Icon