Photo Gallery
Best of New Lake Champlain Bridge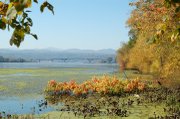 In the past few months, Denton Publications has taken many photos of the new Lake Champlain Bridge construction. Here are some of our favorites.
Crown Point — Motorists will be allowed to cross the Lake Champlain Bridge today immediately following the 2:30 p.m. ribbon-cutting ceremony commemorating its opening.
The ceremony will take place on the New York side of the span, with Vermont Gov. Peter Shumlin meeting New York State Lt. Gov. Robert Duffy to officially open the bridge after 745 days of being shut down.
The event is expected to take less than an hour. Spectators will be allowed to take part by walking on the bridge from both the New York and Vermont sides, a representative of the governor's office said.
Susan Allen, a spokesperson for Shumlin, said details of the ceremony were still being worked out Friday morning, but noted that the Vermont governor is anxious to attend.
"The governor is very pleased that the bridge is reopening," Allen said. "This is a critical transportation route for so many Vermonters and New York State residents. Reopening the bridge is truly worth celebrating."
New York Assemblywoman Teresa Sayward, who has chaired the citizen's advisory committee for the bridge replacement, said she most definitely will be in attendance.
"I wouldn't miss it," Sayward said. "It's been a long time coming. This is wonderful news for the people who travel back and forth between the states."
While ferry service provided by Lake Champlain Transportation has helped commuters, the crossing still adds half an hour to 45 minutes to daily commutes, Sayward said.
It has been more than two years since the New York State Department of Transportation closed the bridge without warning, saying the bridge abutments had deteriorated beyond repair, making the bridge unsafe to travel across.
It was demolished in a series of explosions Dec. 28, 2009, and construction of the new $70 million bridge began in June 2010.
Sayward said the original plan for replacing the bridge had construction beginning in 2013, so the replacement actually happened ahead of schedule.
(Continued on Next Page)
Prev Next
Vote on this Story by clicking on the Icon