continued — "He made saves on shots that we could have been talking about as being keys to putting the game away in the first half," McAuliffe said.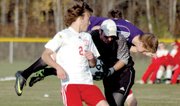 Laurin's shot ended the contest just over four minutes into the first of two 15-minute golden goal overtimes, advancing the two-time defending state champions to the Class D championship game Saturday, Nov. 5, against the Willsboro Warriors, who scored a 5-2 win against the Minerva-Newcomb Mountaineers.
Clay Sherman scored a pair of goals in the win, including the opening tally in the 25th minute and a goal assisted by Jeff Bigelow in the 60th.
Seth Swires (27th), Nick Arnold (Sherman assist, 52nd) and Sam Politi (69th) also scored in the win.
Warriors head coach Andy Lee said the team played better as the game went along.
"The way that we played in the first half could have been better," Lee said. "The possessions were not crisp and the touches weren't good. We looked like a team that had not played in almost two weeks. In the second half, our defense played much better."
The Warriors, who have already accomplished the unprecedented mark of defeating the Eagles twice in the regular season, will now look to score a third victory to end Chazy's state and sectional title defense.
"No matter what has happened this season, I still feel that they (Chazy) are the team to beat," Lee said. "They are the team with the history and the tradition which is something we all look up to in the section, whether teams want to admit that or not. We need to stick to our game plan and play a strong game."
"Willsboro is a great team and we have to play a good game to beat them," McAuliffe said. "My kids are going in with a very good mind set, they believe in each other and they believe that they can win."
Vote on this Story by clicking on the Icon