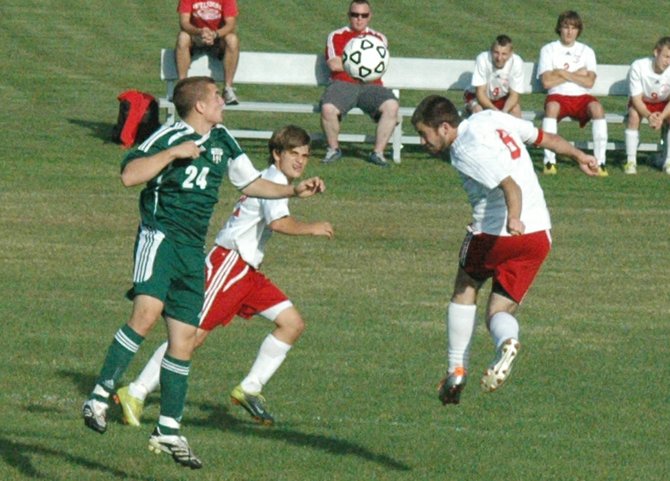 continued — Carter Frechette heads the Eagles offensive attack with 1,449 yards and 22 touchdowns passing with 729 yards rushing and eight touchdowns. Luke Weaver has 810 yards receiving to go with 16 touchdowns, while Devin Backes has hauled in 353 yards receiving.
Class D football
The Ticonderoga Sentinels and Moriah Vikings will again renew their annual Section VII/Class D championship matchup, this time to be played on the Sentinels home field at 7 p.m. Friday, Nov. 4.
Class C football
The top-seeded Saranac Lake red Storm will host the second-seeded AuSable Valley Patriots at 1 p.m. on Saturday, Nov. 5, with a chance to defend their title.
Matt Phelan leads the Red Storm with 1,173 yards and 16 touchdowns passing to go with 663 yards rushing and 10 touchdowns. Michael Burpoe has 411 yards receiving and seven touchdowns, while Devin Darrah has 434 yards and seven touchdowns receiving.
Austin House has combined 603 yards and seven touchdowns passing, while Dillon Savage has run for 407 yards and three scores. Connor Manning has 228 yards receiving, while Kyle Prinsen has 260 yards and four scores.
Volleyball
The Section VII volleyball championships will be decided at Clinton Community College Saturday, Nov. 5, with the Lake Placid Blue Bombers and Northern Adirondack Bobcats at 1 p.m., the top-seeded Plattsburgh High Hornets and second-seeded AuSable Valley Patriots playing for the Class C title at 3 p.m., followed by the undefeated Beekmantown Eagles against the Peru Indians in the Class B title game at 5 p.m.
Swimming
The Section VII girls swimming championships will be decided at the Plattsburgh State Memorial Hall on Saturday, Nov. 5.
Class D soccer
The Chazy Eagles find themselves in a familiar place, as both the boys and girls soccer teams will look to defend their sectional titles and get one step closer to defending their state titles Saturday, Nov. 5.
Vote on this Story by clicking on the Icon