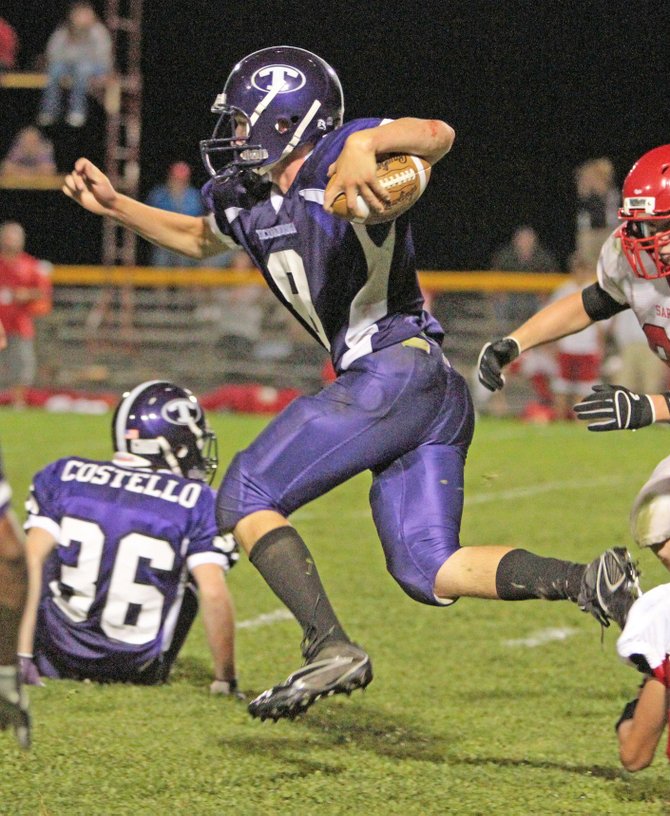 For the Vikings, Landon Cross, who returned to the quarterback position to replace an injured Cole Gaddor, ran for 48 yards and one touchdown while completing one-of-two passes for 23 yards to Travis Nephew. Taylor Whalen added 29 yards and Cheney added 22 yards as well as 1.5 tackles for loss and a half of a sack.
Carlo Calabrese had 3.5 sacks and a forced fumble, as the Vikings caused the Lumberjacks to run 20 plays that resulted in no gain or negative yardage, while the Vikings only had four.
Jordan Garrow finished with 90 yards on 17 carries, while Stone Keniston added 29 yards. Mitch Keniston had 46 yards receiving on four catches.
The Vikings (2-7) faced the Sentinels in the Class D finals Friday, while the Lumberjacks finish the season at 6-3.
"We have to stop that running game," Tesar said about the renewal of the rivalry. "It's not just a one person attack."
"We have to come to practice prepared and be mentally tough from the start to the end of the game," Ida said.
Ticonderoga wins
Ticonderoga used its power running game and defense to beat Plattsburgh, 32-0, in a Northern Football Conference crossover game Oct. 27.
The Sentinels ran for 318 yards as they cruised to a 25-0 lead at the half.
On defense Ti held Plattsburgh to 28 yards in total offense.
The win was a tune up for Ticonderoga's Section VII/X Class D championship game. Ti played Moriah at 7 p.m. Friday, Nov. 4, for the title and a berth in the state tournament. Tickets for that game are $5.
Jay Hebert had two rushing touchdowns, Ryan Borho added one and Will Lawrie hauled in a 21-yard scoring pass as the Sentinels built their halftime advantage.
Nate Lenhart completed all three of his pass attempts in the first half for 32 yards, including his touchdown strike to Lawrie.
Tanner Wright led the Sentinels with 74 rushing yards. Lenhart rushed three times for 66 yards.
Troy LaBounty had a big game on the Ticonderoga line. On offense he helped lead the running attack, while on defense he had an interception and recovered a fumble in the end zone for the Ti's lone second-half score.
Vote on this Story by clicking on the Icon