continued — Purdue is running on the Republican and Pine Tree party lines — lines B and F, column four in this year's ballot.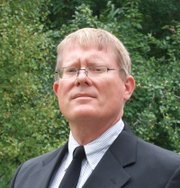 Roalsvig
Paul Roalsvig lives in Long Lake, where his law office is located. He earned his juris doctorate at SUNY Buffalo in 1994 and has been in good standing with the New York State Bar since 1995.
He worked in New York City for 14 years as a private-sector attorney defending cases against federal prosecutors. He's also provided criminal defense in most city boroughs.
His law practice in Long Lake consists of a general practice and criminal defense. He's also worked in the areas of immigration, bankruptcy, family law, real estate and wills.
Roalsvig is active in the community. He's been a substitute teacher at Long Lake Central School, supervised a children's hockey clinic and appearing in community-based musical and theatrical performances.

His family relocated from New Jersey in 2009 in order to live closer to family members, raise their children in a small-town community and take advantage of outdoor recreation in the Adirondacks
Roalsvig is running on the Equal Justice party line — line E, column four in this year's ballot.
Vote on this Story by clicking on the Icon