Lake Pleasant — Three candidates are vying for the Hamilton County district attorney seat, with incumbent James Curry not running for re-election.
Day
Allen Day's family has owned property in Speculator since the 1950s. He has more than 30 years of experience in law with a degree earned at St. John's Law School.
He's served as a Supreme Court prosecutor in the Queens County District Attorney's office, where he tried numerous felony cases. He was an assistant Fulton County attorney prosecuting juvenile delinquents and persons in need of supervision. He's worked as an attorney for the New York State Division of Criminal Justice Services.
He currently has a private practice in Johnstown.
Day said he is committed to the safety of the people of Hamilton County and the preservation of the spirit of the Adirondacks.
Day is a member of the Fulton County Bar Association Ethics Committee and acts as the chairman of the personnel and finance committee at his church.
He is a Republican running on the Adirondack Party line — line D, column four in this year's ballot.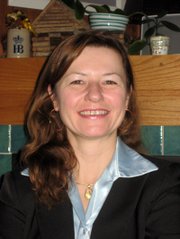 Purdue
Marsha Purdue lives in Indian Lake and has 22 years of legal experience in local justice courts, superior courts and appellate courts. She's served as the Hamilton County Attorney, where cases included work with juvenile delinquents.
She started the law firm Purdue & Wells where she's now the managing partner. The office has grown from just Purdue to include two more attorneys, a paralegal, two legal assistants and a part-time bookkeeper.
A priority for her if elected is stopping illegal drugs from being distributed in the county and keeping those substances away from children. In her door-to-door campaigning, voters told her it was a big concern.
To that end, she'd like the DA's office to work with local schools and community leaders to educate youth on the dangers of drug abuse. She also promises to prosecute drug dealers to the fullest extent of the law.
(Continued on Next Page)
Prev Next
Vote on this Story by clicking on the Icon