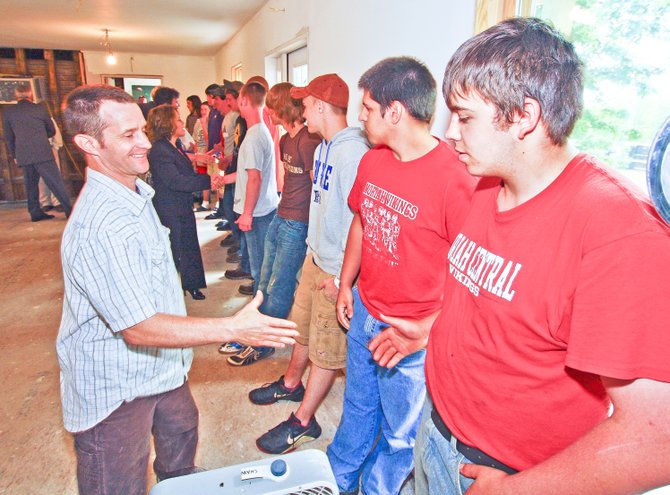 Port Henry — After nearly two decades on the road, Moriah's town board meetings will return home in 2012.
The meetings will be held at the newly expanded and renovated court building, adjacent to the town hall at Park Place in Port Henry.
"We haven't held regular board meetings on town property in a long time," Supervisor Tom Scozzafava said. "It's going to be nice to be back."
With Scozzafava and Moriah trustees placing an emphasis on open government and public participation, attendance at town board meetings in the late 1980s and 1990s grew to the point meetings could no longer be held in the supervisor's chambers.
To accommodate crowds at town board meetings, the conclaves were moved to larger buildings in the community. During the past 20 years the meetings have been held at the Moriah Veterans of Foreign Wars Post in Mineville, the Moriah fire house, the former Republic Steel building in Mineville, the Iron Center museum in Port Henry and, most recently, the Knights of Columbus in Port Henry.
"We're very appreciative to all the community organizations throughout the years," Scozzafava said. "They've been very helpful."
Moriah has paid $75 a month for the use of a meeting hall for its meetings. Returning to it own building, the town will no longer spend that $900 a year.
The first meeting at the courthouse will be Thursday, Nov. 10. The building is not yet handicap accessible, but the Knights of Columbus is not available on that date forcing Moriah trustees to make a move. The December town board meeting will likely be at the Knights of Columbus, Scozzafava said, with all meetings at the court building starting in January.
It's been three years in the making, but the town of Moriah has a renovated, expanded court thanks to a group of students.
(Continued on Next Page)
Prev Next
Vote on this Story by clicking on the Icon