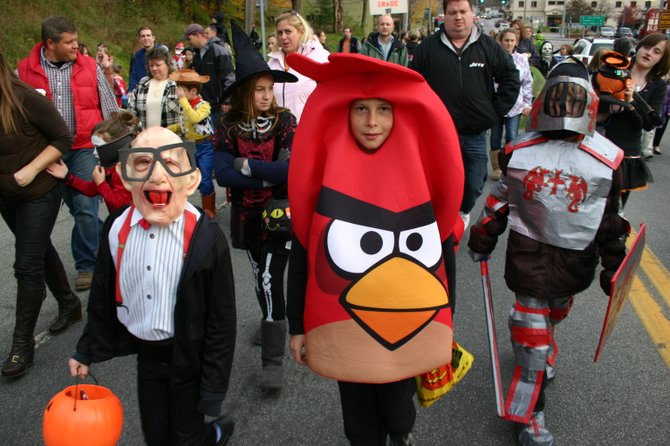 continued — Generations enjoyed the march together.
One trio parading included Helen Lawler, 78 — garbed in purple hair and a Mardi Gras Mask, her daughter Jeanine Lawler as a witch with rotten teeth and crooked nose, and granddaughter Taylor, 6, posing as Olivia the Pig.
Humans weren't alone in enjoying the fun. Teenagers Sarah Leguire and friend Stuart Ketchum marched Leguire's two dogs in the parade: "Happy" the Husky, garbed as a peace-loving hippie, was accompanied by an Italian Greyhound decked out in orange and black.
Fire Co. President Kevin Geraghty said that the costumes were as creative as ever. "We're pleased as always that so many people came out for the parade," he said as he handed out one of 60 trophies at the concluding party held at Warrensburg Elementary School. "We firefighters enjoy this as much as the kids, if not more."
Award-winners included youngsters Brent, Bailey and Benjamin Ackley dressed up as buccaneers in a wagon disguised as a pirate ship.
Miles and Maris Martin posed as lion trainer and lion, respectively, towed in a wagon transformed into a circus cage, towed by parents Caleb and Brianne Martin of Thurman.
Ruth Near, 84, watched the family quartet wheel by.
"This tradition is fantastic — I can't get over the creativity," she said.
Vote on this Story by clicking on the Icon