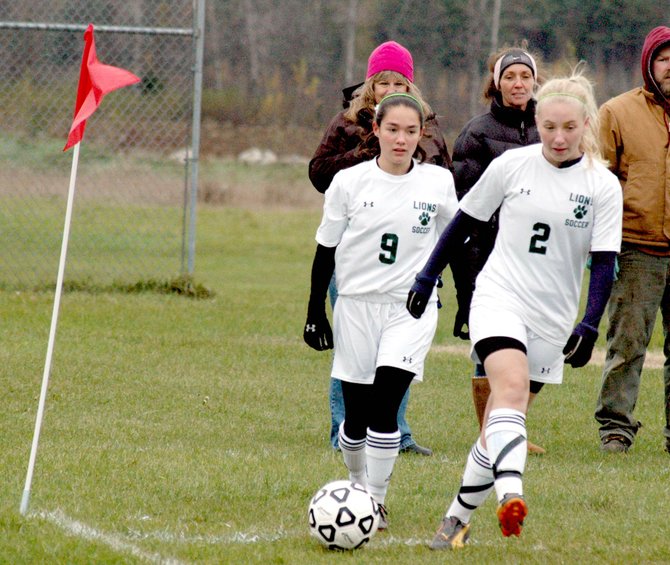 Lewis — It will be the top two seeds in Section VII/Class D girls soccer who will play for the title Saturday, with one also being the top ranked team in the state.
The Chazy Lady Eagles scored a 9-1 victory against the Wells Lady Eagles Nov. 1, as their run for a second straight state title advanced to the championship stage.
Megan Reynolds scored goals in the 17th (Caitlyn LaPier assist), 35th, 69th (LaPier) and 70th minutes to pace the Eagles offense, while Caitlyn LaPier scored in the 16th and 60th minutes, both of assists from Reynolds. Hannah Laurin, Kirsten Doran and Desiree Gallup also scored for Chazy.
In Lewis, the second-seeded Elizabethtown-Lewis Lions took advantage of an 11-5 shot advantage and a pair of goals in the opening half to score a 3-0 win against the third-seeded Westport Lady Eagles.
Emily Morris opened the scoring for the Lions in the 23rd minute on an assist from Kylee Cassavaugh, who scored goals in the 28th and 60th minutes on assists from Clare Harwood and Caitie Decker.
"It means a lot to us to get this far in the playoffs," Cassavaugh said after the game. "It's good to get this experience and have a chance to play for a title against Chazy."
Morris said that since she had made the move from midfield to the front line, she and Cassavaugh have worked well together on the offensive end of the field for the Lions.
"We work really well together," Morris said. "We seem to click together and we work to make that better in practices."
"Emily and Ky work so well together, and we finally finished on our opportunities today,' head coach Stephen Denton said.
Jennifer McGinn made three saves in the win, as the defensive unit again held an opponent scoreless.
(Continued on Next Page)
Prev Next
Vote on this Story by clicking on the Icon