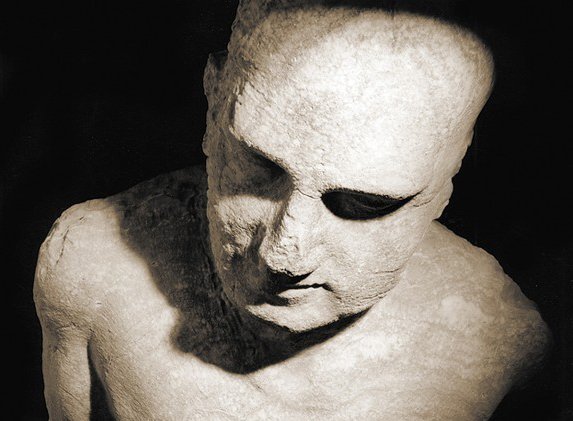 continued — Onondaga Historical Association Executive Director Gregg Tripoli agrees.
"It's a fascinating story," Tripoli said. "It was major bucks back then, and it was a major hoax. It got national attention."
He said there's an element of the circus sideshow that appeals to people, as does the chance to relive history and learn a local legend.
To expand appeal, Marshal is organizing related programming throughout the city. He's also partnering with local businesses to incorporate the giant into their marketing, trying to reflect how, for a few months at least, the Cardiff Giant became the center of Central New York life.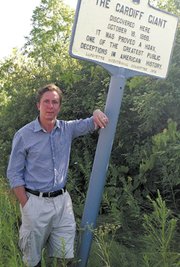 So far, he's partnered with WAC and OHA, the Near Westside Initiative and Gear Factory, Sparky Town and bc restaurants, Syracuse Soapworks and Scholaro Shulman Cohen Fetter & Burstein law firm.
Marshal hopes to see the giant in advertisements and marketing materials for the same local businesses that would benefit from a boost in tourism.
"The Cardiff Giant was a huge money maker, and I think one could equate the atmosphere around the giant with today's branding initiatives and marketing schemes," said Erin Richardson, director of collections at The Farmer's Museum.
Richardson said many fourth-grade classes visit the museum, and the giant attracts a lot of attention.
"Most kids run over immediately and ask 'is this a real giant?'" she said. "Obviously, the giant still has powers of deception after all these years!"
Now all Marshal has to do is prove that his fake of a fake will capture the city's curiousity.
For more on the project, visit the project blog at syracusecardiffgiant.blogspot.com or help pitch in here at the Kickstarter page.
Editor's note: P.T. Barnum offered $50,000 to purchase the giant from the Syracuse syndicate, not $150,000 as written in the story originally. We apologize for the error.
Vote on this Story by clicking on the Icon