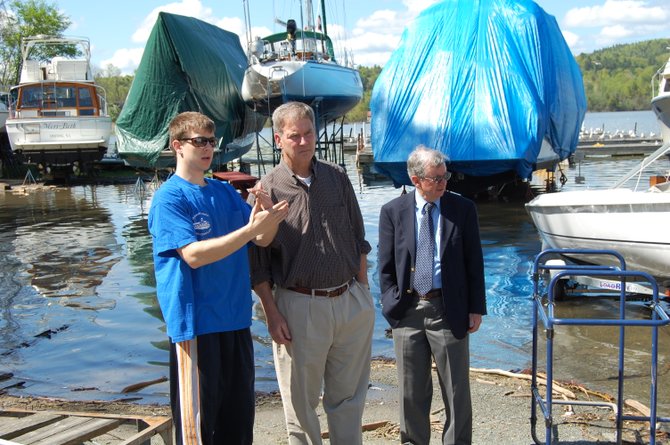 •There were 82 people that attended a public hearing in the town offices here on May 25, as the Westport Planning Board offered an opportunity for questions and comment on the proposed Rolling Hills development of the former Treadwell estate.
The developer, Dave Mann of Westchester County, was present for the hearing, as were his lead architect, Dave Carr, and his attorney, Timothy R. Smith of Lake Placid. Mann and his team have applied to the planning board for a special permit to cover the project, which they describe as "a farm-related private membership club." Further meetings of the Planning Board are scheduled for June 15 and 22, during which board Chairman William Johnston said he hopes the board will reach a decision on the special permit.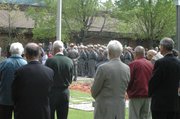 •Members of Troop B of the New York State Police took time to remember the first Trooper to ever lose their life in the line of duty.
Troop B commander Maj. Rick Smith and Former Troopers Association President Russell Slingerland unveiled a memorial plaque in honor of Lt. James A Skiff during the annual Troop B Memorial Day ceremonies May 25, the 91st anniversary of the day Skiff lost his life.
"He was stationed in Ogdensburg in 1920 and was riding in the sidecar of a division motorcycle when he was killed in an accident," Maj. Smith said. "We usually have our Memorial Day ceremonies on the Wednesday before Memorial Day, so it just worked out that way that we were able to honor his sacrifice on the 91st anniversary of his death."
Skiff is listed as the first member of the NYSP to be killed in the line of duty and, until a year ago, was a man without a "Troop."
June
•Following the push by lawmakers in the town of Willsboro to have work done on the section of road over Willsboro Mountain, Essex County ways and means committee chairman Roby Politi of North Elba did not mix any words as he talked about road conditions at the May 31 meeting.
Vote on this Story by clicking on the Icon