•Former New York Gov. David Paterson was in the Adirondacks over the weekend, where he addressed graduates of Paul Smith's College on May 15.
Speaking along the shores of Lower St. Regis Lake, Paterson told graduates to take chances and stick to their convictions.
"Throughout the centuries there have been men and women who took first steps down new roads armed with nothing but they're own vision," he said. "The great leaders, the thinkers, the artists, the scientists, the inventors — stood alone against the societies of their time. Every new thought was opposed, every new invention was denounced. But these people who had an unbarred vision went ahead – they fought, the suffered, and the paid, but they won."
•Congressman Bill Owens saw for himself the impact the flooding on Lake Champlain is having on local businesses when he toured the Lake Champlain shoreline in Essex County May 19, stopping at the Westport Marina, among other places.
"It's a disaster," Larry Carroll of the Westport Marina said. "The damages are looking at about $250,000 and up."
"It's hard to belive the power of nature until you see things like this," Owens said. "It looks like people built their houses and their businesses right in the middle of the lake. How can you possibly anticipate a 500-year flood? And there is no way that you can afford to."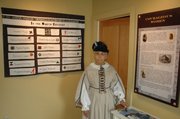 •A new museum offers a look into the role that the North Country played in helping slaves escape to freedom.
The North Star Underground Railroad Museum, next to Ausable Chasm, officially opened its doors to the public on May 21, with the public getting a first look at the interactive features and displays.
"This is beyond our expectations," North Country Underground Railroad Historical Society President Dan Papson said. "This is the biggest, little museum in New York State."
Vote on this Story by clicking on the Icon