Photo Gallery
Valley News Year in review, Part I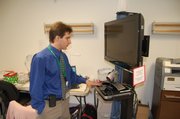 Pictures from stories covered during the first four months of 2011.
There was a lot that happened in 2011 throughout the region, from flooding and tropical storms to stories of compassion and lending a helping hand.
January
•Elizabethtown Community Hospital ushered in the 21st century with fiber-optic technology. The hospital was equipped with the high-speed technology through Westelcom.
"They have been talking about this for a long time," said Jane Hooper, ECH director of community relations. "It is now time for us to realize the dream. For such a small facility, it is pretty wires in and pretty connected and it is quite impressive and it makes it great because we can be a little faster and better increase our services."
•Thanks to that porject, fiber optic technology also came to business owners in Elizabethtown.
"This is a big thing for the town," said Elizabethtown supervisor Noel Merrihew. "To be able to get involved with something like this is a tremendous benefit not only for the hospital, but for the town as well."
•The early morning sunrise of Jan. 11 was blacked out by deep plumes of grey smoke as crews battled a blaze that completely enveloped historic Hubbard Hall on Elizabethtown's Main Street.
The fire began at approximately 6:50 a.m. and was being fought by firemen from the Elizabethtown, Lewis, Whallonsburg, Wadhams, Westport and Keeseville Volunteer Fire Departments, along with standby assistance from the Mineville, Willsboro and Reber Volunteer Fire Companies.
Frigid temperatures hampered the efforts of firefighters as the mercury dipped to near zero. Water turned almost immediately to ice, which caked to the walls of the structure as the persistent flames raged on inside.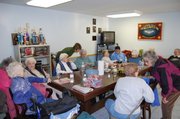 •It was not the usual gathering at Lakewood Apartments in Willsboro, however, because this gathering was taking place at the Willsboro Volunteer Fire Department, and not by choice.
The 12 residents of Lakewood Apartments, along with several other local properties, were evacuated from the area around 8 a.m. Friday, Jan. 6, when a pipe that supplied the senior housing complex with propane was found to be leaking.
(Continued on Next Page)
Prev Next
Vote on this Story by clicking on the Icon