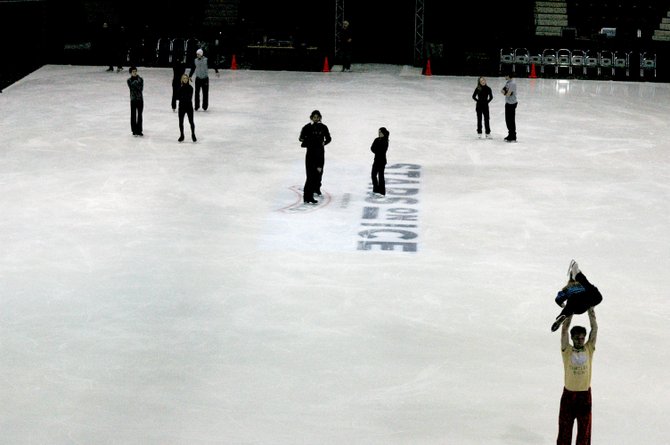 "Skate into 2012" sponsors include the Lake Placid Kiwanis Club, Connecting Youth and Communities Coalition, Lysek's Hillcrest Inn, Ashley's Cafe, Price Chopper, Hannaford Supermarket, the Olympic Regional Development Authority, WSLP, the Lake Placid CVB/Regional Office of Sustainable Tourism, Compass Printing, Mountain Lake Communications and the Lake Placid Skate Shop.
For more information contact Christie Sausa at 637-8078 or by email at c.sausa0526@gmail.com.
Saranac Lake First Night will be held Dec. 31, starting with an opening ceremony and unveiling of the banner at 5:45 p.m. at the Harrietstown Hall and end with fireworks over Lake Flower just after midnight.
Sites for First Night include the Adirondack Artists Guild, BluSeed Studios, the Elks Club, First Presbyterian Church, the First United Methodist Church, Harrietstown Hall, Pendragon Theatre, Petrova Elementary School, Saranac Lake Free Library, St. Bernard's Catholic Church, St. Luke's Episcopal Church and Saranac Village at Will Rogers.
Performers include The Mamma Mia! sing-a-long, Adam Falkner poetry reading, Bee's Kneez, Paul and Annie, a teen dance, Julie Robards & A Fine Mix, Woody Pines, The Crabgrass Puppet Theatre, comedian Jay Montepare, the River rat Rhythm Project, Mango Jam, Sara Milonovich, Frankenpine, the Real McCoy Show, Stephen Gratto, Pecos Bill, Steve Langdon, Joey Izzo, Drew Benware, David Fadden, Eddie and Kim Lawrence and the High Peaks Opera.
Admission to all venues is gained by showing a First Night button, which can be purchased for $12 for adults. Children 12 and under are admitted free but need to display the button designed especially for them which will be available at all venues.
Buttons can be purchased at Coakley High Peaks Ace Hardware, Ampersound Music, Price Chopper Supermarket (Lake Placid), Books & Baskets, Blue Line Sports, Adirondack Daily Enterprise or the Lake Placid Visitor Bureau.
For more information, visit the website www.firstnightsaranaclake.org.
Vote on this Story by clicking on the Icon