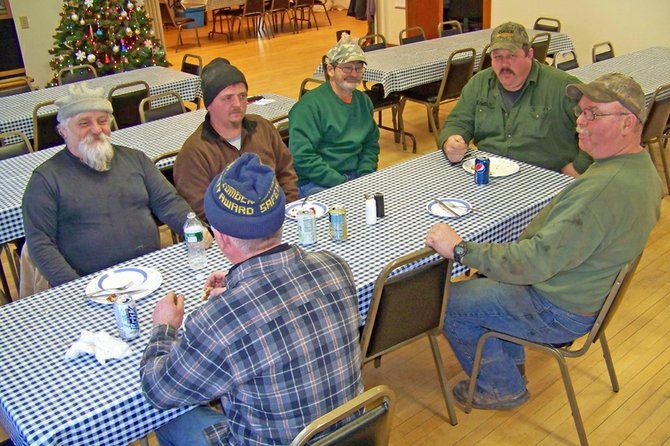 continued — Most all their initial work was setting up barricades to divert traffic.
In what has since been called a miracle, not one motorist careened into the gorges or gullies left by the floodwaters.
After a few hours of sleep, the round-the-clock road repair work began, first to restore access to those totally cut off by the floodwaters and later to rebuild the less critical roadways. Nearly every one of the dozens of town roads were washed out at one place or another.
Wood and others recalled that a dozen or more college students were stranded at Camp Dippikill for three days, while they worked hard to get at least one lane passable with a temporary gravel surface. Many others elsewhere were stranded, and hundreds faced treacherous travel, or inconvenient, lengthy detours to get to civilization.
For days, the Thurman town highway workers were joined by about 90 others from Queensbury, Warrensburg, Chester, and Lake George, worker Bruce Dingman said.
Before they sat down to the tribute luncheon Dec. 29, the workers were finishing up rebuilding a bridge on Sky-Hi Road, a 10-week project. Wood said the crew hopes to have it open by Jan. 10, Wood said.
"Now, we're hoping for an easy winter — so the money normally spent on salt can go towards more roadwork," he said.
Resident Jessica Christoffersen, whose mother baked a ham dish, looked at the highway workers talking about the great flood of Memorial Day weekend, which caused an estimated $7 million in damage.
She said all the townspeople deeply appreciated their work — not only for the response to the May flood, but for clearing the roads of snow so efficiently each winter
"All this food is cooked up with love," Christoffersen said, gazing at the entrees set up on a counter in the town hall.
Town Board member Rebecca Hitchcock, who helped with the tribute luncheon, noted that in a normal year local residents are thankful for the efficient road clearing — but this year, their appreciation is far more extensive.
"The road men are fantastic," Hitchcock said. "They work really, really hard, especially this year. They're a bunch of really good guys."
Vote on this Story by clicking on the Icon